Star Ferry Musing #160. Ceramic bread pudding
Written by Robert Wu for his family and friends
If you wish to discontinue receiving SFM articles, please drop me a line.
如您不願意收到這些文章, 請告知.
*********************************************
In retirement, I have plenty of time on my hands. Each week, I have lunch with my brother-in-law Wah Chiu on Mondays; and lunch with my 60-years-long buddies on Wednesdays. Then I do my ceramics 4 days a week in two community centers. This leaves me one day a week to cool my heels. I am glad I am so busily occupied.
In doing my ceramics, I specialize in making realistic-looking food items. They satiate my longing for delicious and beautiful-looking foods; and I can still keep my weight down.
I saw a photo of a dish of delicious bread pudding. The egg custard is beautiful in rich yellow, the pieces of French bread are soaked in the custard and look spongy. The bread custard is baked in oven to darken the upper surfaces of bread. The tempting dish of dessert is crowned with a sprinkling of powdered sugar. My mouth waters by simply looking at this photo.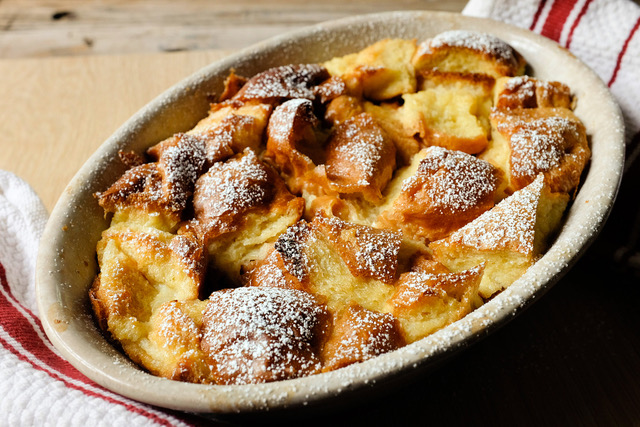 I decided to make a ceramic bread pudding. I hand molded a clay sculpture of an oval dish holding pieces of French bread. I played with clay when I was a child and might be familiar with this process.
To finish the rough clay sculpture into a finely detailed bone dry clay ware, I carefully carved and sculpted the dried clay into smooth surface where it should be smooth, and textured where it should be textured.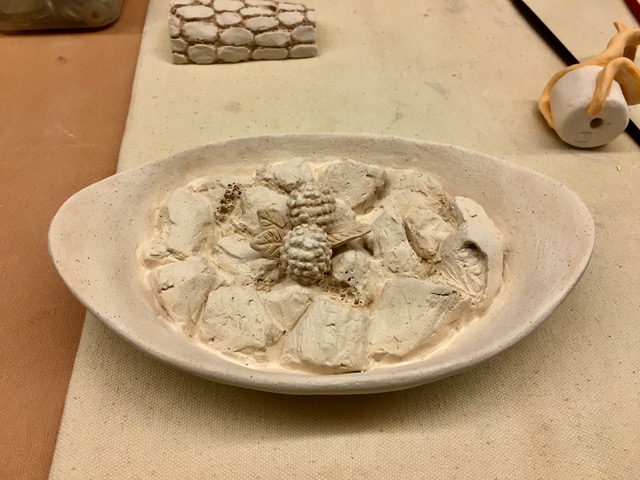 The dish was hollow underneath to thin out the clay piece. For the heat in the kiln to reach all the clay, the clay sculpture should not be thicker than 1.5 inches anywhere. When the clay ware was then fired in the kiln, the fragile dried clay converted into hard ceramic bisque ware.
I then decorated the bisque. Using ceramic colors called underglazes, I painted appropriate areas. Using progressively darker colors, I tried to capture the appearance of the bread, the bread crust, the oven-darkened crust, and the burned areas. These various colors work together to make the sculpture realistic and temptingly delicious.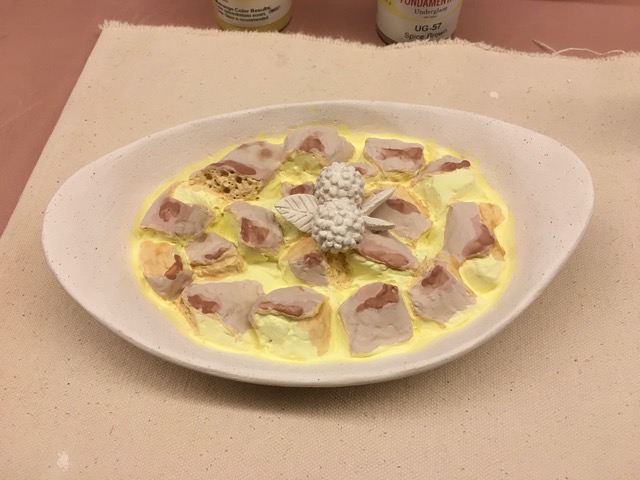 The decorative raspberries were painted.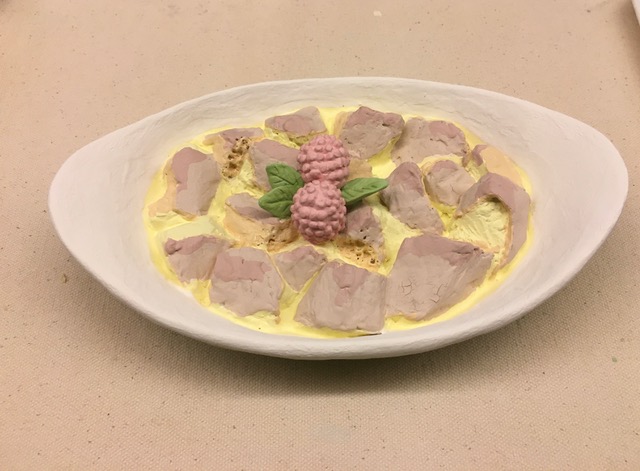 To simulate sprinkled powder sugar, I took some hard, fired bisque pieces and ground them into powder. Using a fine mesh strainer, I separated fine powder from coarse pieces of bisque.
I would paint clear glaze onto the surfaces where I wanted to capture and show sprinkled powder sugar. Then I tapped a strainer to sprinkle powdered bisque to stick to the wet glazed areas.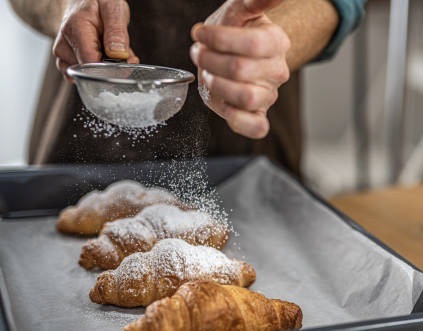 The first time I sprinkled powder bisque, I did not sprinkle sufficient amount of the powder. The glaze fired piece did not look like it was covered by powdered sugar. It was a failure.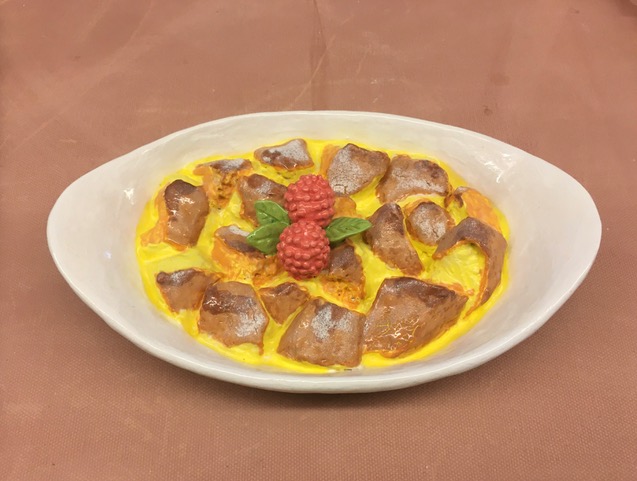 To recover, I sprinkled more powdered bisque and glaze fired the piece again. The finished piece then looked like it was sprinkled with powder sugar. Now it looked tempting and delicious.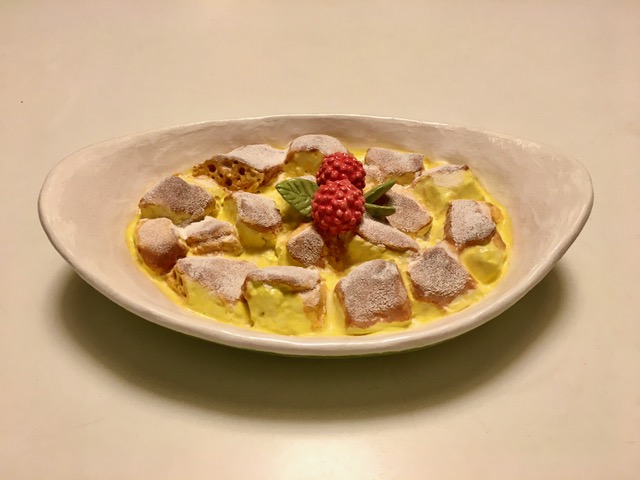 This finished bread pudding sculpture is prominently displayed in my display cabinet. I enjoy looking at it.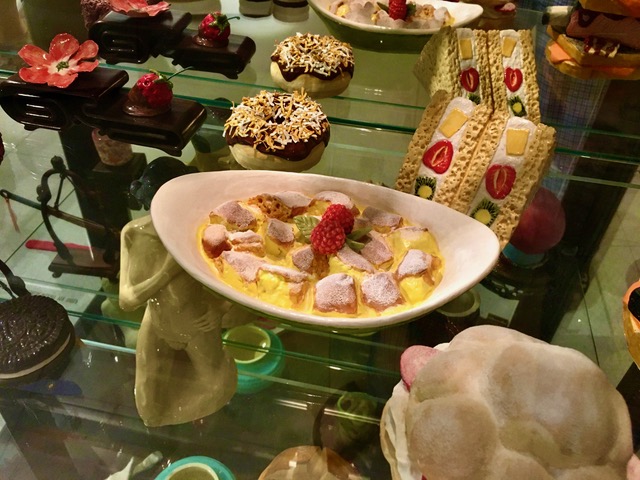 *****************************************
Note: If you enjoy reading this blog, feel free to forward it to your friends. But please do not modify this blog in any manner.