Star Ferry Musing #111: Nostalgic Route 66
Written by Robert Wu for his family and friends
To read all 111 SFM articles, please access  http://www.starferrymusings.com/
If you wish to discontinue receiving SFM articles, please drop me a line.
如您不想收這些文章, 請告知.
************************************************
Sally and I drove cross country in Arizona last year.  At dusk, we left the superhighway and went into the next town, Seligman, to look for a motel.  We found this Historic Route 66 Motel and took a room.
Our room was more elaborately decorated than the usual drab motel room.  It featured a cowboy theme and had old cowboy movie stars' pictures hanging on its walls.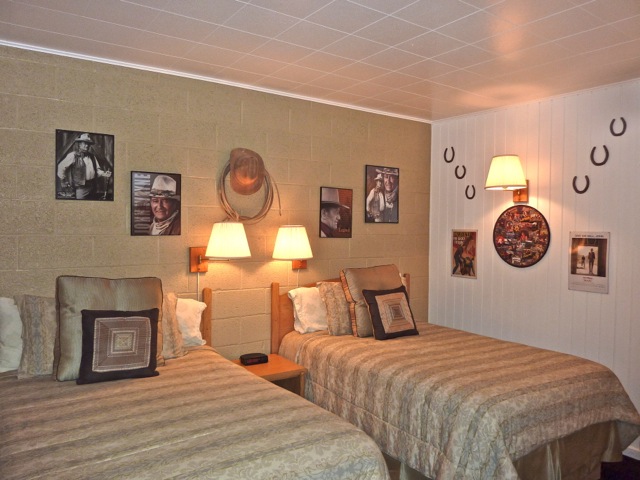 In the morning, we found the small town of Seligman, AZ, to be built around a country road Route 66 with a few stores in 1950s theme.  This Snow Cap burger joint was nearly 100 years old, underwent numerous upgrades, and was still selling fast food and ice cream to tourists.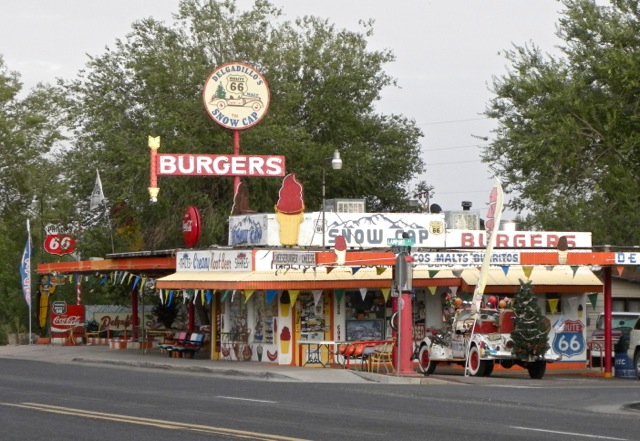 This Rusty Bolt store was festooned with mannequins in period clothing and an old car by the curb.  It was blazoned with big Route 66 signs, and made up to look like a garish frontier town store.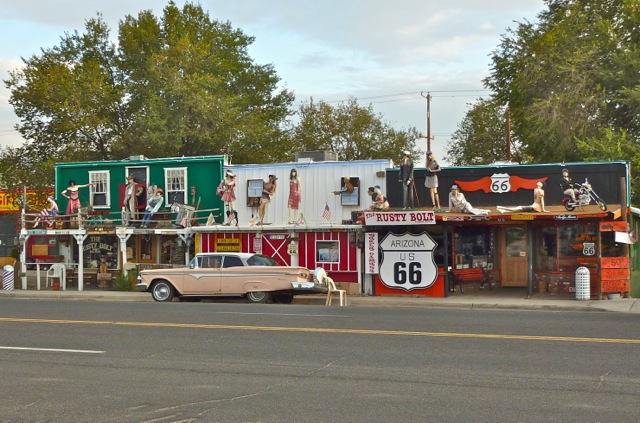 Sally flirted with the mannequin dressed to look like Elvis Presley.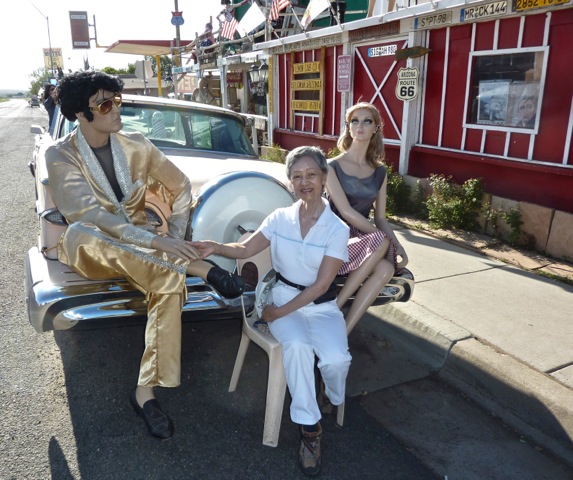 This old Ford Edsel was in excellent condition.  When it was introduced in 1958, it failed miserably as consumers rejected its odd styling.  This car was in pretty good condition and can be sold today for about $20,000.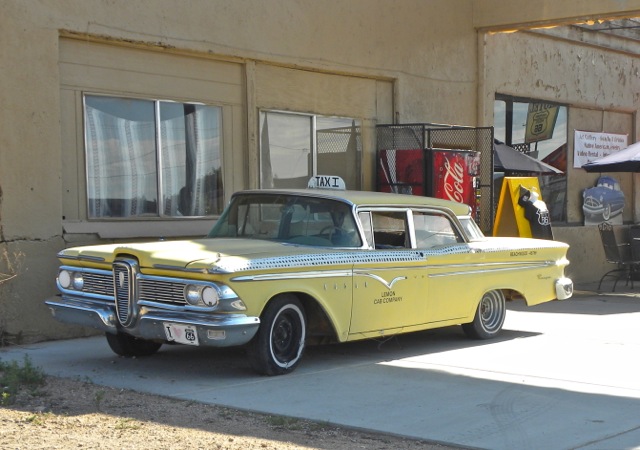 This classic Corvette outside a store reflected the importance of cars to this town.  Another Corvette was featured in the popular 1960s TV series Route 66.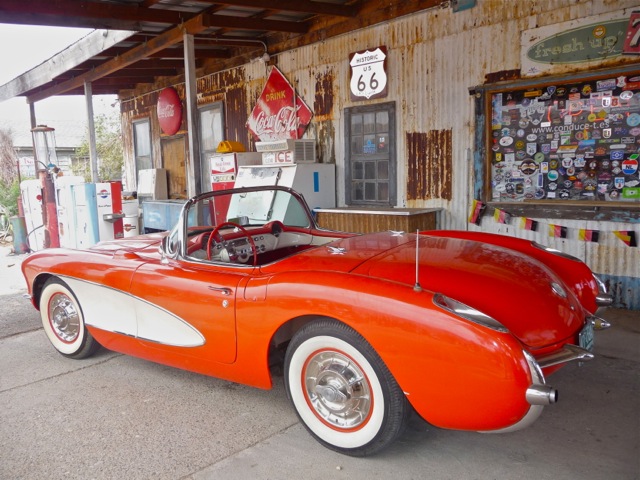 We chanced upon a restored section of the famous US Route 66, between Seligman and Oatman in Arizona.  Connecting various highways and local roads through eight states in 1926, Rt 66 was the first federal highway that enabled cars to be driven 2,500 miles from Chicago to Los Angeles.  For decades, this highway was a key artery for commerce and many towns along it prospered.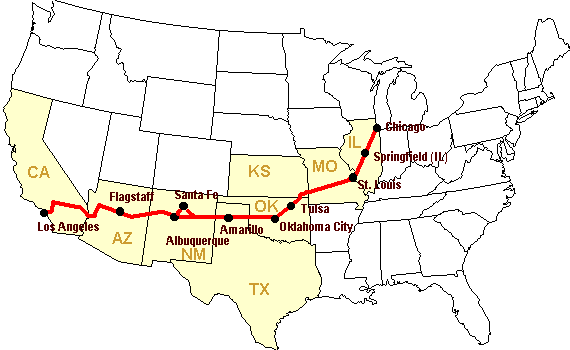 In this part of Arizona, a railroad runs parallel to Rt 66.  Long 100-car freight trains still pry this railroad transporting goods.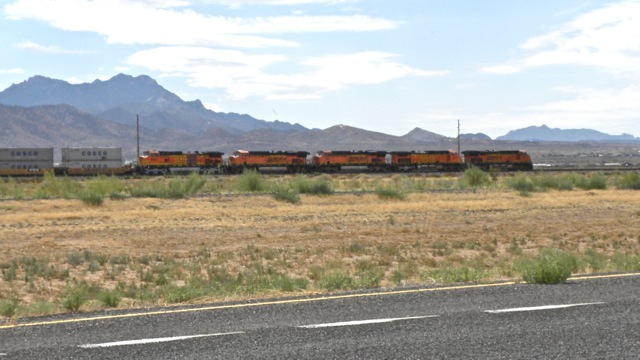 Rt 66 in Arizona traversed a scrubby desert.  The road undulates as the pavement was laid on the terrain without leveling.  Cars bounce up and down uncomfortably as they travel on this road.  It is impossible to drive fast on this uneven and curvy road.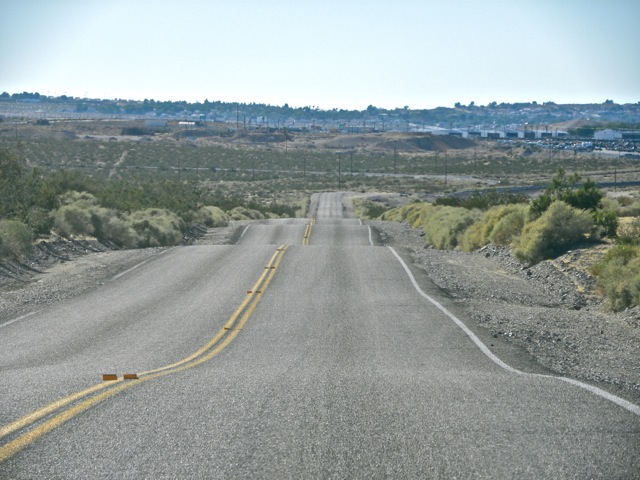 The US interstate highway system began to be built in the 1950s.  Efficient, straight superhighways connect all major cities and allow comfortable high-speed travels.  US 40 was built parallel to Rt 66 near Seligman and drew almost all traffic from the country road.    Within years, Rt 66 was deserted and prosperity disappeared from all towns along it.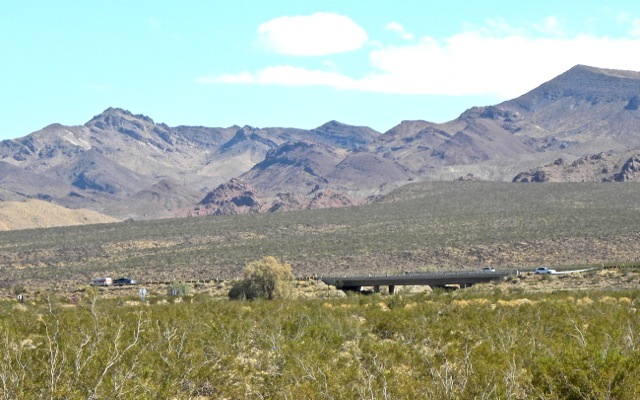 A store was barely in business while two nearby stores had been closed for years.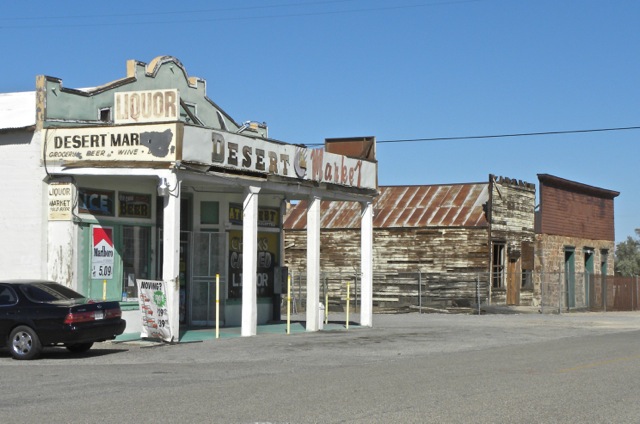 A rusty Studebaker sat in front of a house next to a row of abandoned buildings.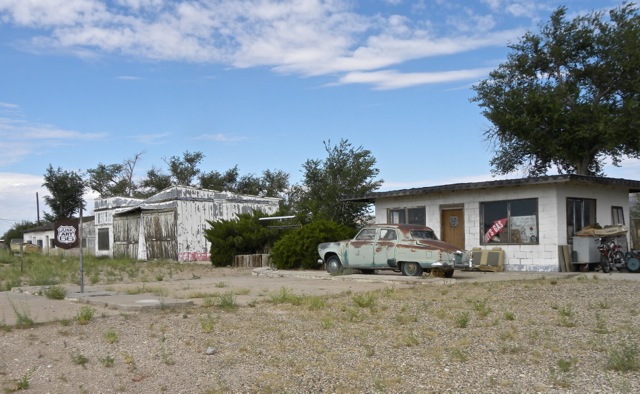 I stopped in a service station that had been closed.  The relatively new gas pumps indicated that it was still in business shortly earlier.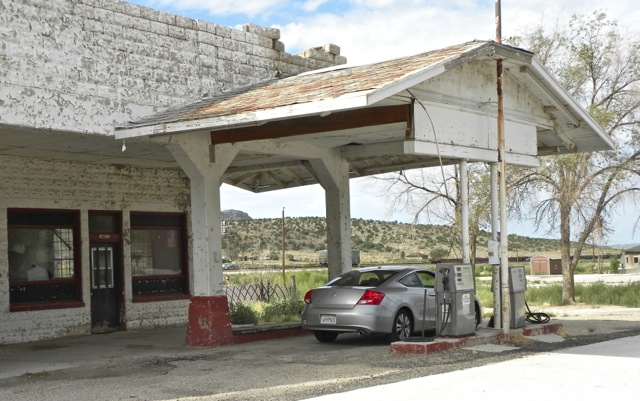 Many residential houses were abandoned.  It would take decades of vacancy for this house to deteriorate to this condition in the dry desert climate.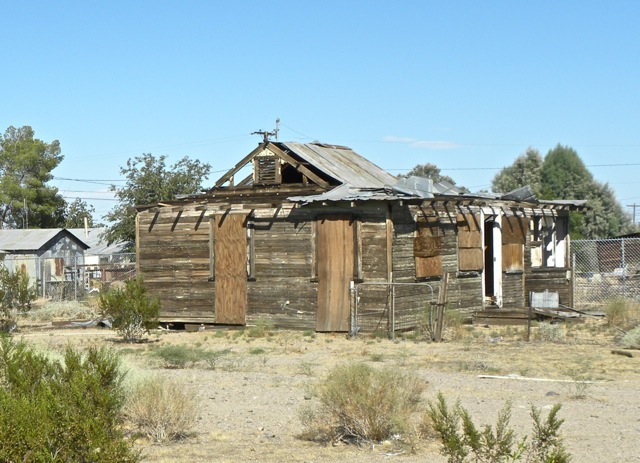 Old frontier buildings were saved for tourists' viewing.  This log cabin jail and cage cart look uncomfortable and menacing.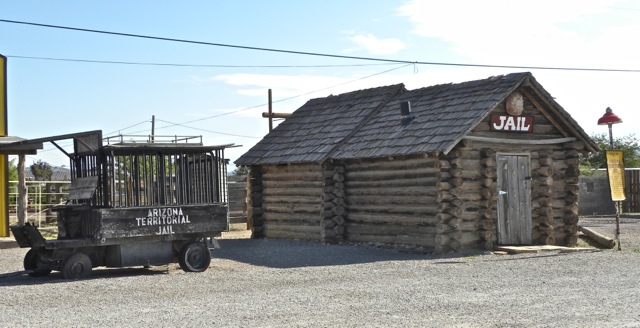 An old outhouse was saved for posterity.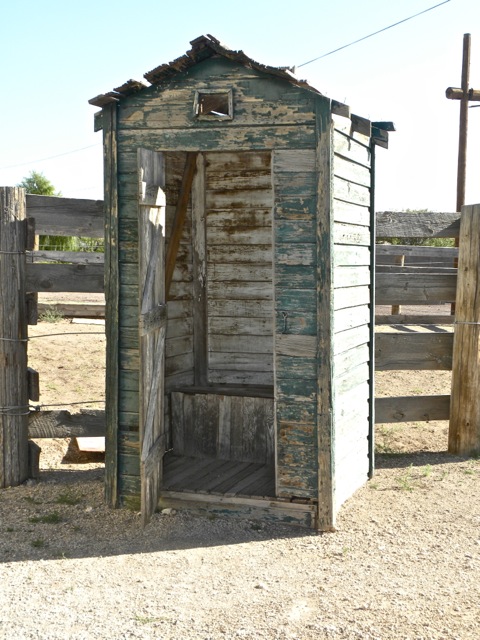 As seen by these mail boxes, some residents live near Rt 66.  The sight of their occupied houses must be a pleasant relief from the prevalent vacant look along Rt 66.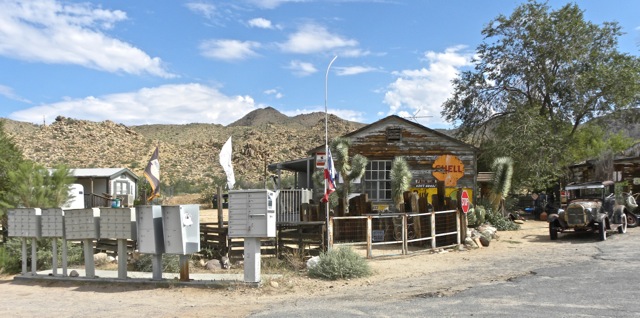 This house sat on top of a knoll to help its owner feel like the king-of-the-hill.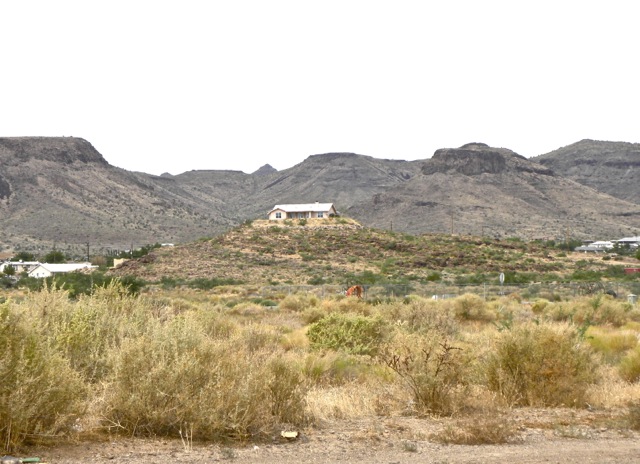 We stopped at a gas station and found it cluttered with rusty old stuff.  To some people, they are just junk.  But to some others, they are valuable collectibles.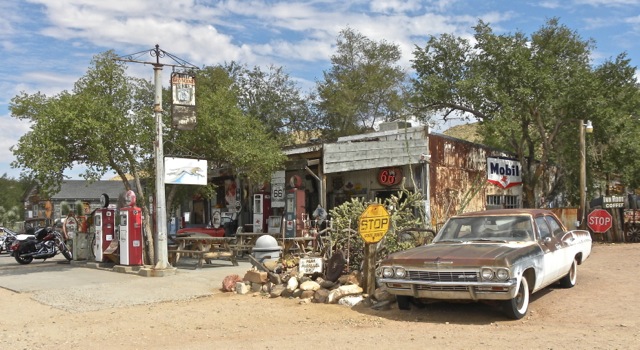 Inside the station, the decor was nostalgic 50s.  We felt young again sitting in the vinyl booth drinking CocaCola.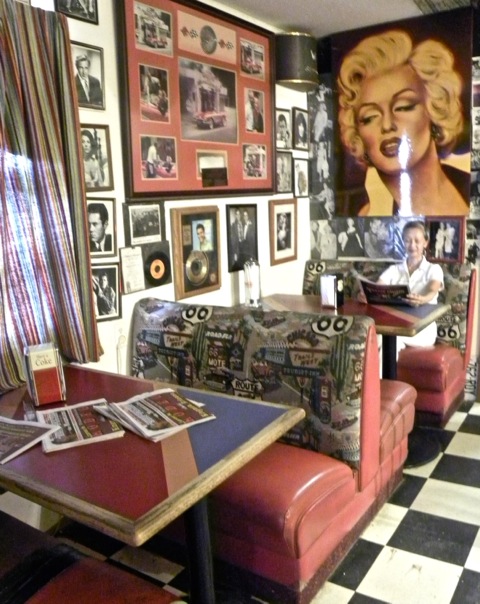 Arizona desert can be dangerous.  This sign warns of poisonous rattle snakes.  We did not walk off the beaten path.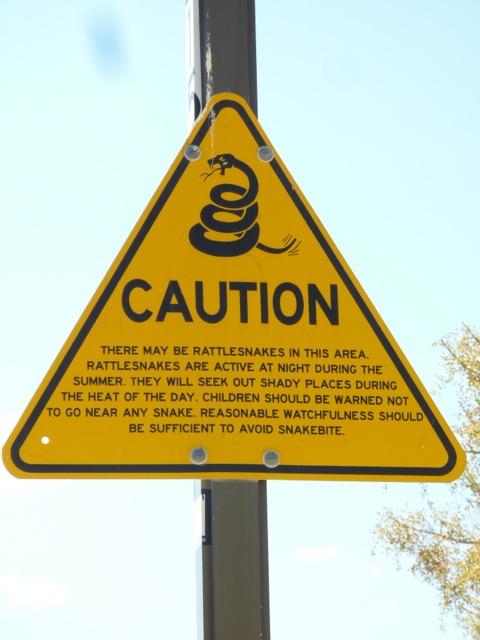 Highway stores sell clubs called "tire thumpers" for drivers to hit their tires with.  If a tire makes a sharp "thwack" sound, it is properly inflated.  For truck drivers with 18-wheelers, these clubs save time.  Every trade has its tricks.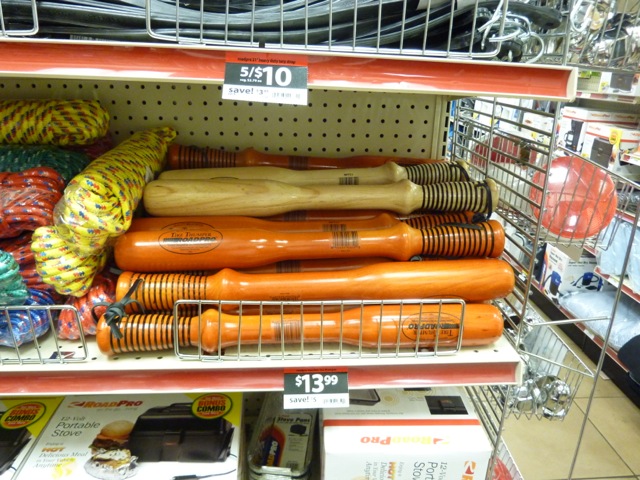 While we were at the gas station, a group of 50 motorcyclists riding Harley-Davidson hogs descended on the station.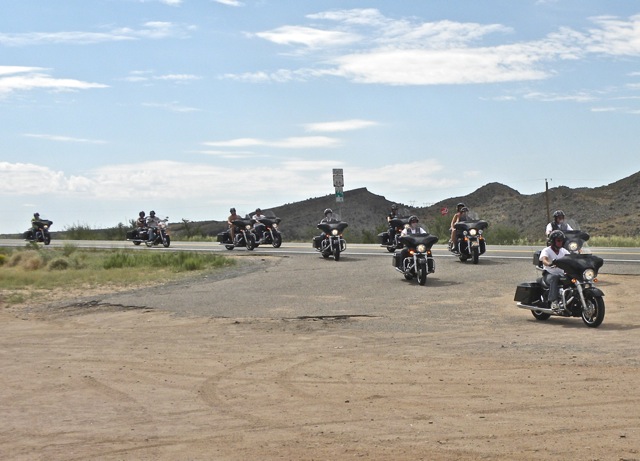 They were visitors from Germany and Scandinavia.  They joined a tour company that provided the motorcycles, escorts, and a service truck to accompany them on a 14-day ride on Rt 66 from Chicago to Los Angeles.  It costed them $4,000 per person.  For them, this was a legendary Americana dream come true.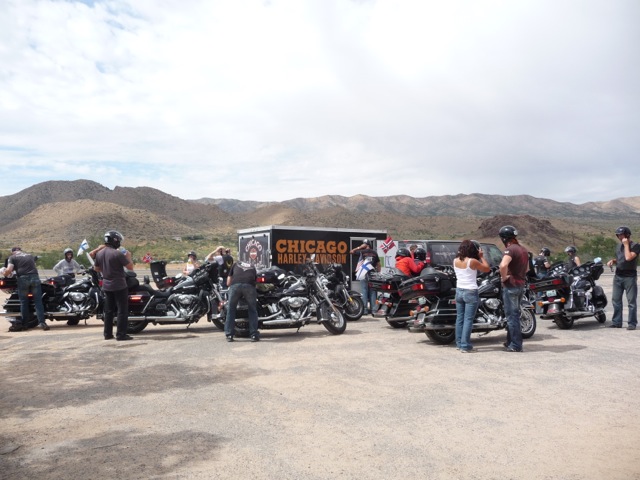 One enthusiastic visitor sported pins that commemorated his ride on Rt 66 through eight states.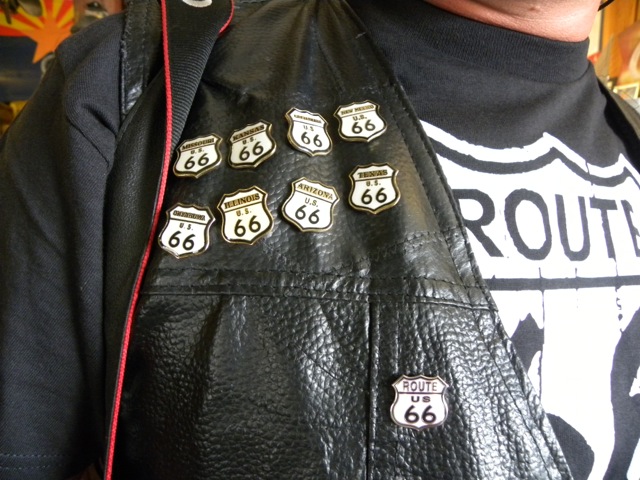 After freshening up, the large group mounted their motorcycles, started their engines, and roared away.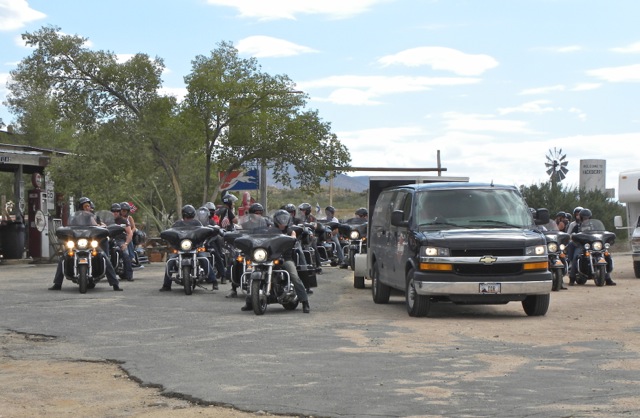 As the highway signs indicated, the motorcyclists could take the efficient superhighway US 40 and drive comfortably to Los Angeles.  But they chose to time-travel and ride on the slower but nostalgic Route 66.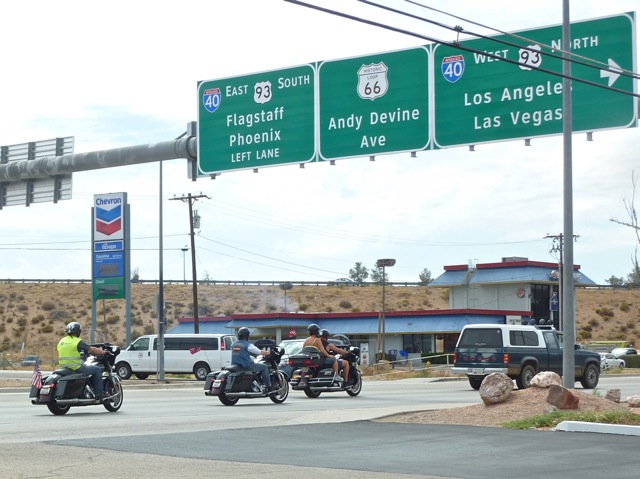 *****************************************
Note:  If you enjoy reading this blog, feel free to forward it to your friends.  But please do not modify this blog in any manner.