Star Ferry Musing #109:  Dim Sum
Written by Robert Wu for his family and friends
To read all 109 SFM articles, please access  http://www.starferrymusings.com/
If you wish to discontinue receiving SFM articles, please drop me a line.
如您不想收這些文章, 請告知.
************************************************
Sally and I worked, lived and retired in Hong Kong for 20 years before returning to live in San Francisco.  While in Hong Kong, we enjoyed many good foods.  One of the best was dim sum (點心), or small dishes of varied food accompanied by tea.  Dim sum is generally eaten at breakfast, lunch or afternoon tea time, but never at dinner.
Some of my favorites dishes are steamed shrimp dumpling (har gaw 蝦餃), roast pork bun (叉燒飽), steamed spare ribs (鼓汁排骨), and steamed chicken feet in spiced soy sauce.  The four cardinal attributes of delicious Chinese food are taste, aroma, eye appeal and texture.  Chicken feet's cartilages are favored for their crunchy texture.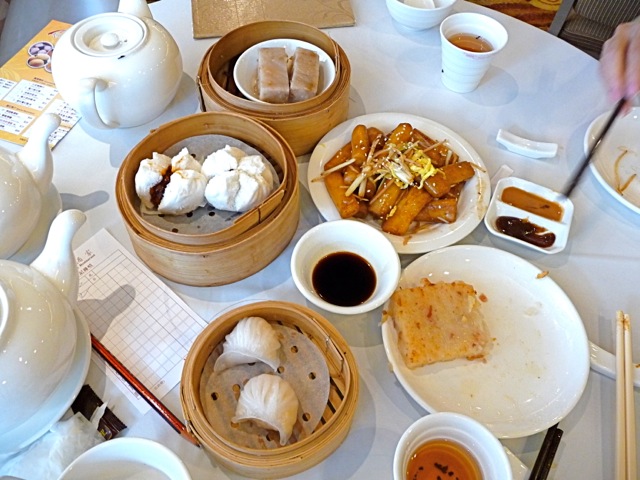 Our daughter, Tammy, loves dim sum.  We always shared dim sum with her when she visited us in Hong Kong.  Dim Sum means "little delights of the heart".  They certainly touch Tammy's heart.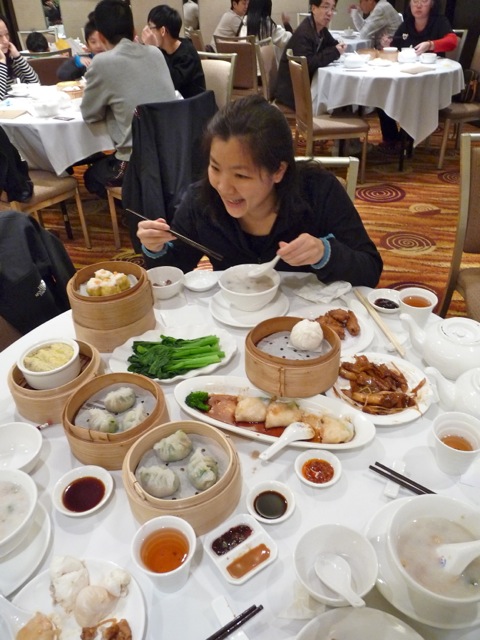 I like to take photos of foods I enjoy.  They are reminders of good times.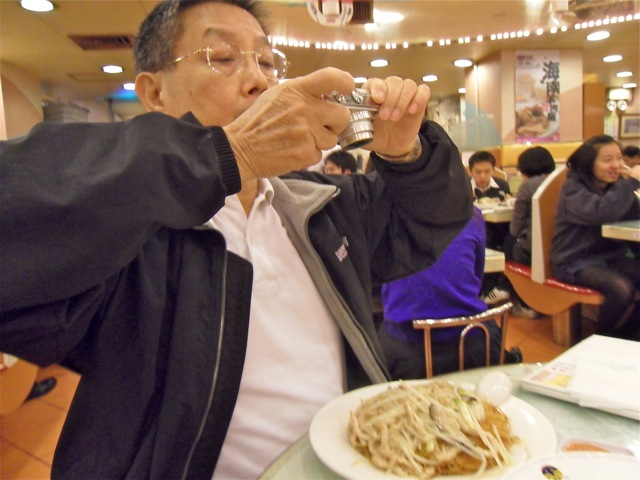 Dim sum are also sold as street food in busy Hong Kong shopping districts.  They are often prepared in less than optimal conditions.  Here, a store front cook dangles his cigarette precariously above the dim sum he was preparing.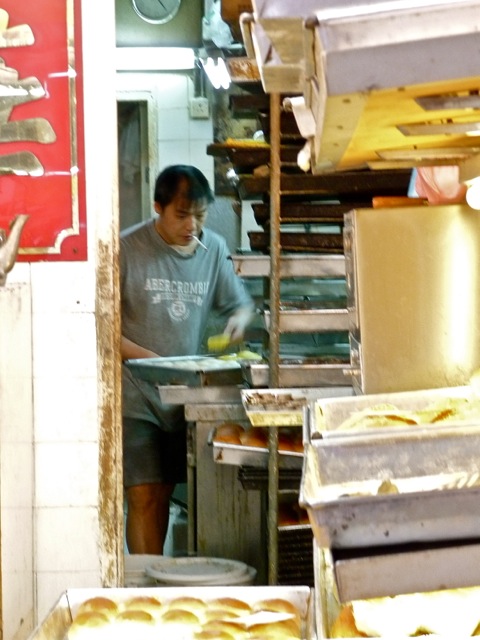 The dim sum sold by the curbside are not appealing to me.  I never found out if they tasted good or not.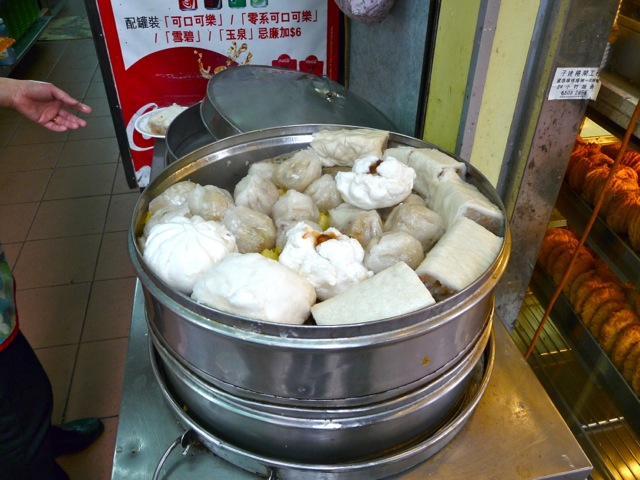 Lin Heung Tea House
Lin Heung Tea House (蓮香樓) is a 90 year old restaurant situated in an old district.  It retains some of the old characters of the traditional tea houses.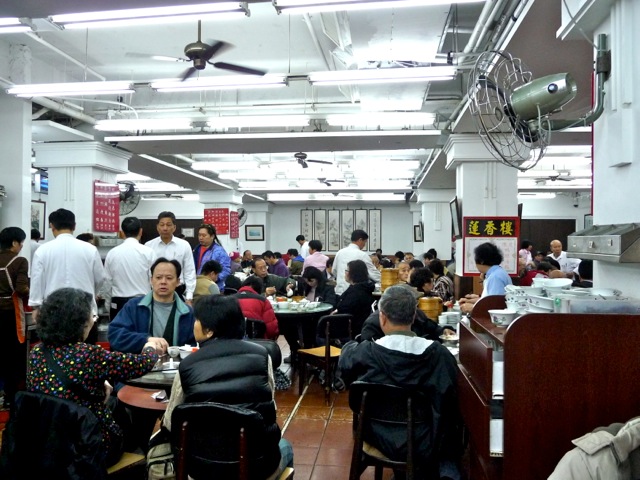 Big kettles of boiling hot water sit on low heaters.  The container next to it is not a spittoon but I cannot figure out what it is for.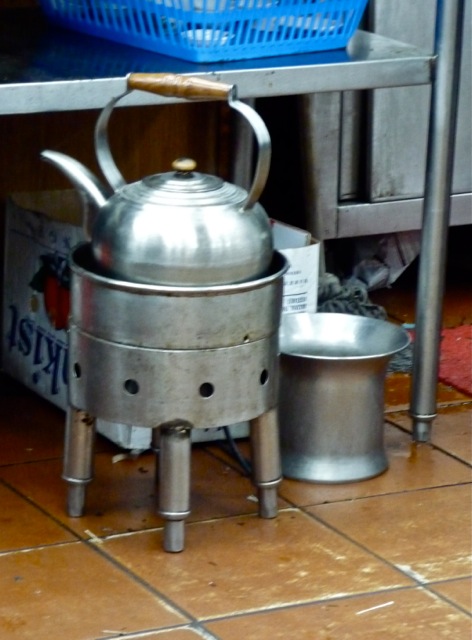 The customers do not trust the dish washing sanitation of the tea house.  They are provided with a tureen to wash their own utensils before deemed safe to use.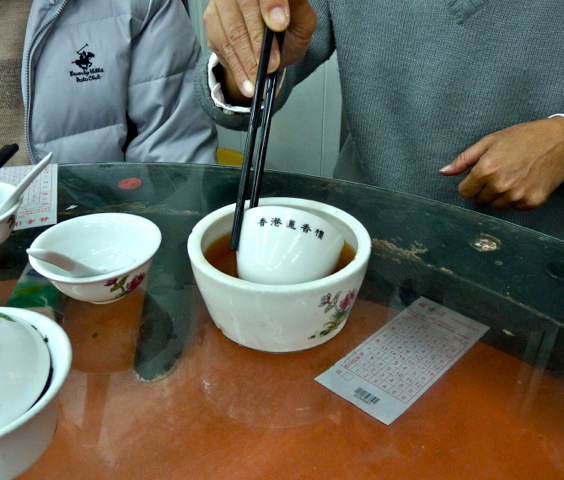 Dim sum meals are a tradition of the Canton (GuangDong) region in southern China.  The Cantonese name for a dim sum meal is yum char (飲茶), meaning to drink tea.  Tea, being the dominant feature of a dim sum meal, is elaborately furnished in Lin Heung Tea House.  The waiters are ready to pour very hot water from a kettle at a moment's notice.  A covered cup contains tea leaves and hold hot water to brew the tea.  The first brew is dumped into the tureen as a wash for the (sometimes dusty) tea leaves.  Then subsequent brews are poured into the tea cup to enjoy.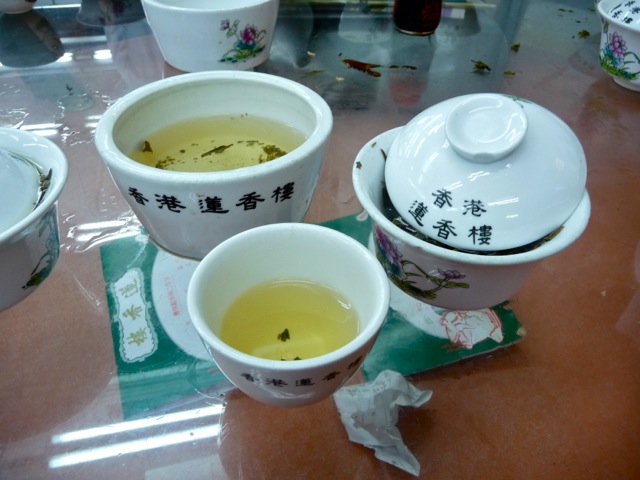 Most restaurants provide a pot of hot water brewing tea leaves.  The tea leaves would continue to steep and the tea would become very dark and I find it bitter and undrinkable.
I have learned to perfect the tea brewing process in restaurants.  I would order a pot with tea leaves, a pot of hot water, and an empty pot.  I pour the hot water into the pot with tea leaves.  When the tea leaves have been steeped just right, I would pour all the tea into the empty pot to keep and drink.  I control the strength and flavor of the tea.  Actually, most restaurants just consider me a fuzzy customer and accommodate my unusual request.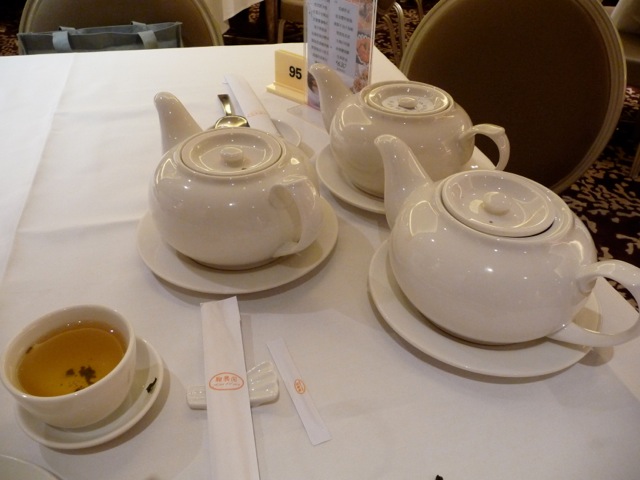 Luk Yu Tea House
Luk Yu Tea House (陸羽茶室) is another old style tea house.  It is a little fancier than Lin Heung and caters to rich Hong Kongers.  It retains the old practice of letting the customer mark down his selected dim sum on a sheet of menu with a string-attached pencil.  The dim sum are cooked to order to present the best flavor and freshness.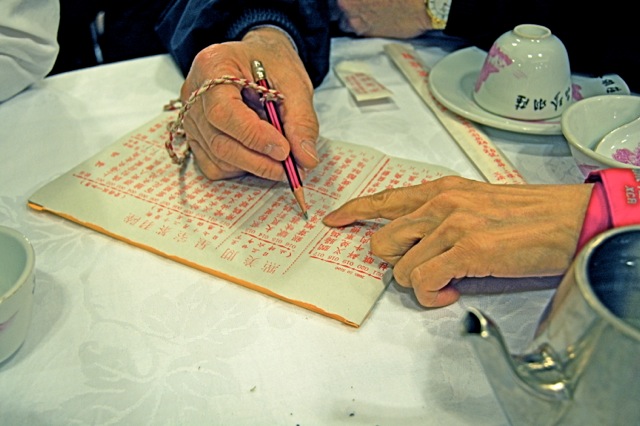 Most other tea houses and restaurants have adopted the practice of bringing out cartful of dim sum for the customers to select.  As most tea houses are mobbed at tea time, these dim sum would not get cold before they are grabbed by eager customers.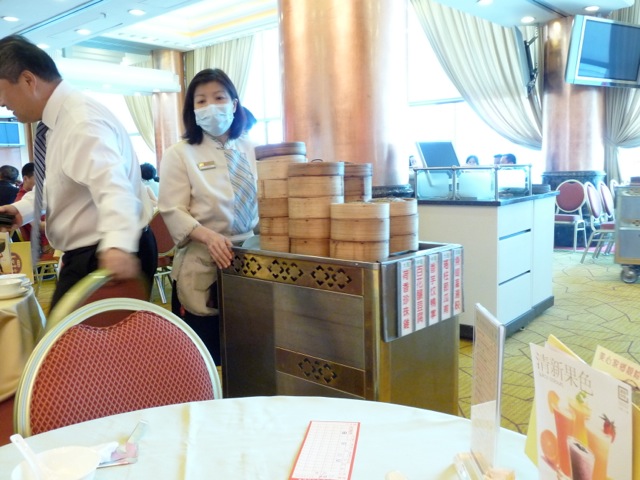 Metropol Restaurant
Metropol Restaurant (明都酒樓) claims on its large billboard that it offers "the best shrimp dumpling in the world".  We tried them and they are very good.  But Hong Kong recently enacted a truth in advertisement law, and Metropol will have to stop this claim since they cannot validate this declaration.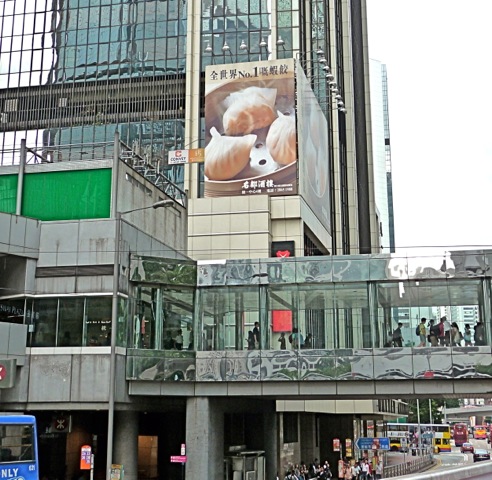 We were particularly impressed with Metropol's fried egg ball (sar yong 沙翁).  I spent years looking for the best sar yong in Hong Kong but found all of them tasting like ordinary doughy donut.  At Metropol, I was delighted to find its sar yong very eggy and tasty.  I find it to be the best sar yong served in any restaurant.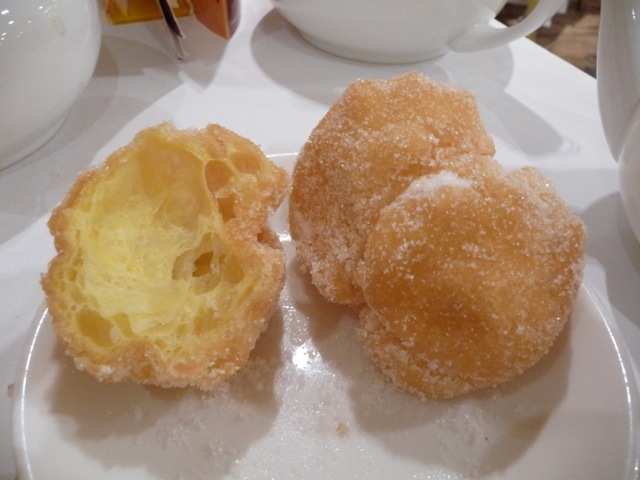 But for a nice restaurant that serves food on table clothed setting, we had to bring our own paper napkins.  Hong Kong restaurants normally do not provide napkins except upmarket restaurants at dinner time.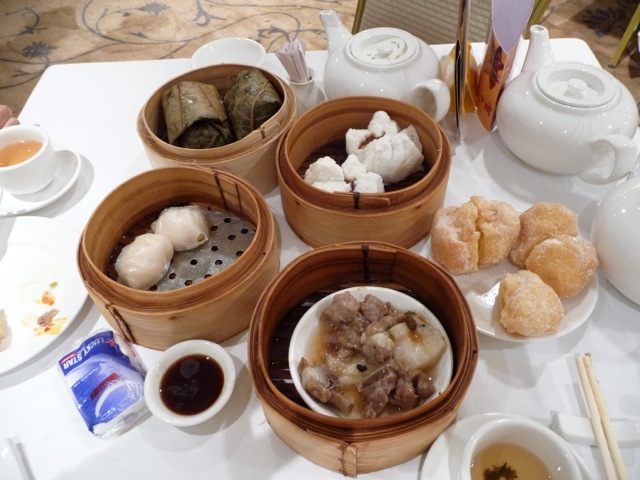 Din Tai Fung
Din Tai Fung (鼎泰豐) started out as a popular dumpling house in Taiwan.  Its dumpling wrappers worked in plain sight of the diners and their food was excellent 30 years ago when I first patronized it.
Din Tai Fung has since expanded to Hong Kong, Shanghai and even the USA.  In its Hong Kong branch, we found the signature scene of wrappers working ceaselessly behind glass.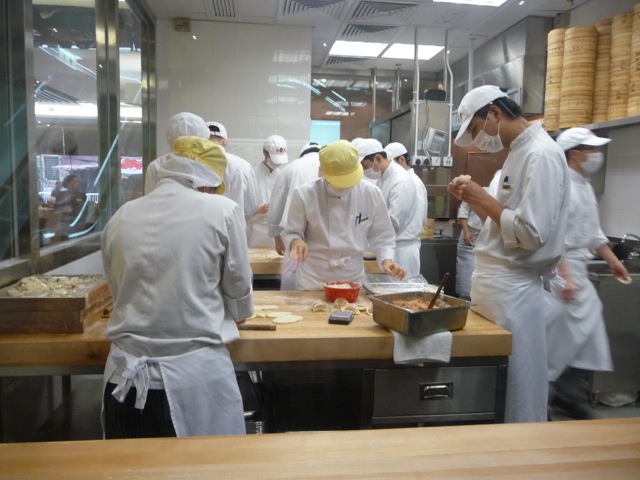 Unfortunately, the food in its Hong Kong branch has lost the wonderful flavor we remembered.  We will always savoy the serendipity of eating a wonderful meal in the original restaurant in Taiwan.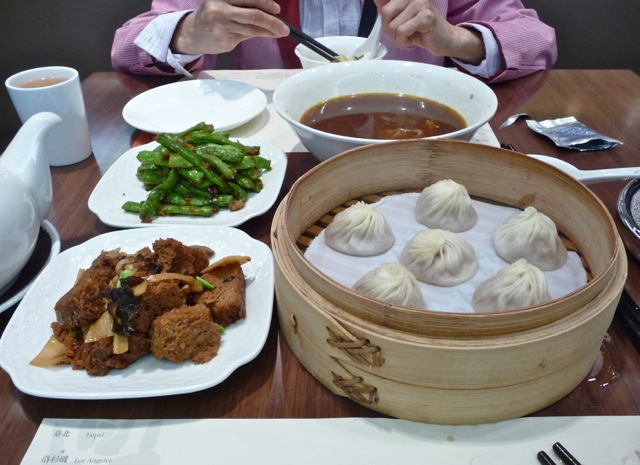 Tim Ho Wan
Tim Ho Wan (添好運) was rated one star by Michelin and has won the title of the cheapest Michelin starred restaurant.  A dim sum dish in this tiny restaurant can cost about US$1.  When we went there, there was a crowd of hungry people waiting patiently for their turn to eat.  we waited almost two hours to get in.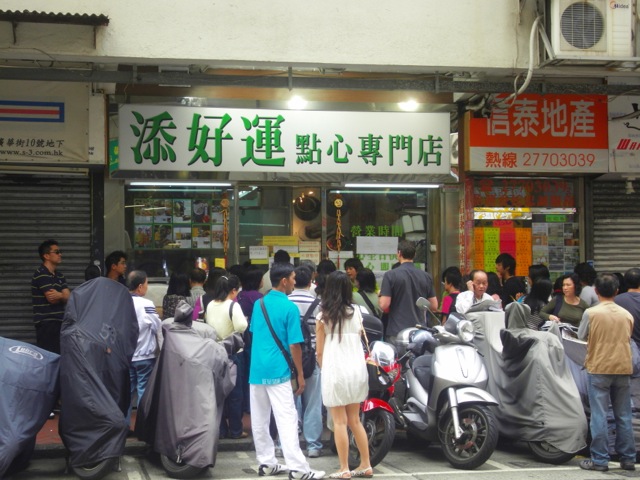 Our table after the long wait was a pitifully small perch.  We felt pressured and crowded and did not enjoy our meal.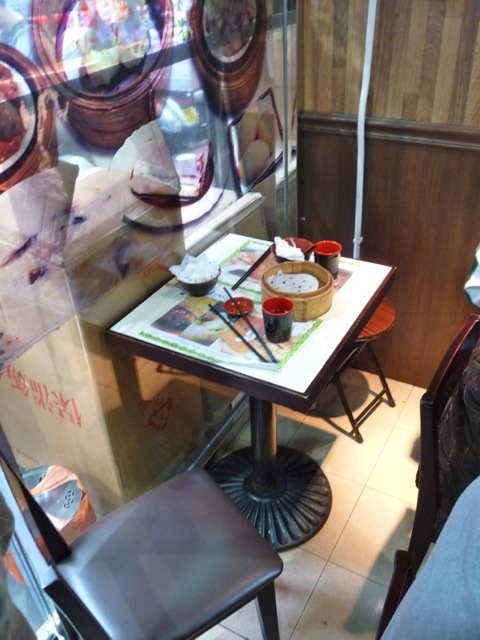 Besieged by the army of surging customers, the restaurant pasted several notices on its door.  They spelled out the rules of the wait; when the next registration for new waiting list will commence; it ceased to sell take-outs; what number is called, etc.  It's more bureaucratic than the immigration department of many nations.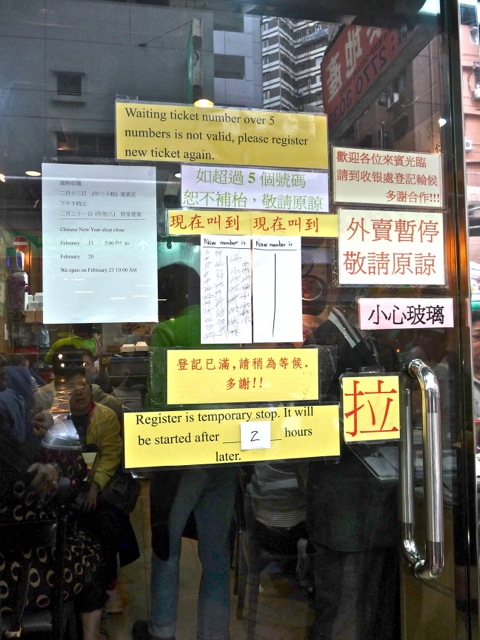 This suddenly-famous restaurant has only 20 seats.
We found most dim sum restaurants in Hong Kong served excellent food.  We were seldom disappointed.  We found it unnecessary to fight the crowd and wait two hours at Tim Ho Wan which was not much better than the dim sum restaurant one block from our flat.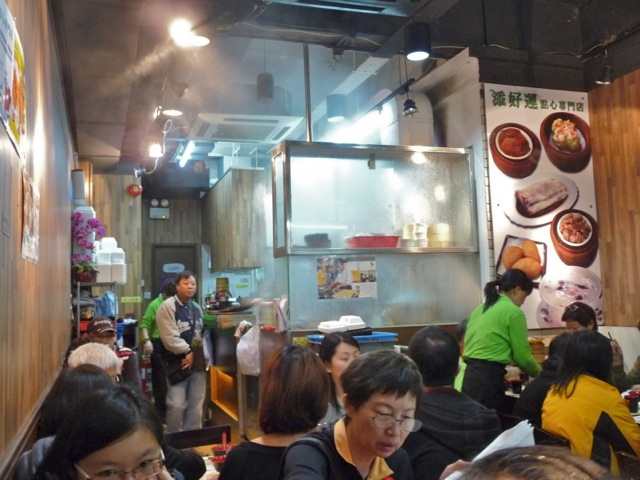 Tim Ho Wan is taking advantage of its fame and has expanded with a modern restaurant in an upscale mall in Hong Kong.  I find on the web a restaurant with the same name in Singapore, but I am not sure if it is a legitimate branch or a copy cat posing as a branch.  I hope Tim Ho Wan will not deteriorate from too rapid an expansion and become a flash in the pan.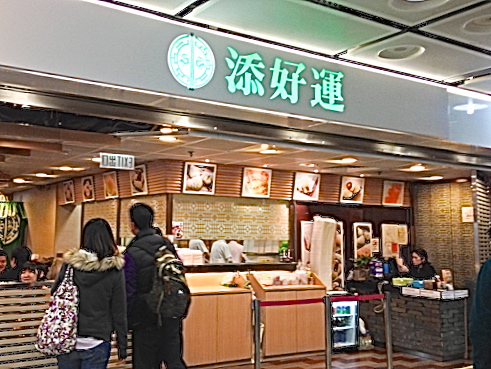 (From web)
*****************************************
Note:  If you enjoy reading this blog, feel free to forward it to your friends.  But please do not modify this blog in any manner.