By Robert Wu for his family and friends
……………………………………………………………………………….
Yesterday, UNESCO decided to grant World Natural and Cultural Heritage Site status to the watch towers (diaolou) of Kaiping, Guangdong Province. This decision was based on the unique architectural fusion of these "diaolou" that combined Western and Chinese architectural elements. All told, there are 1,833 diaolous standing in Kaiping, a home town prefecture of many Chinese who ventured to America and Australia in late 1800s.
http://in.today.reuters.com/news/newsArticle.aspx?type=entertainmentNews&storyID=2007-06-28T122249Z_01_NOOTR_RTRMDNC_0_India-282141-1.xml
For almost 100 years before 1970s, most of the Chinese emigrants in America and Australia came from a cluster of prefectures including Taishan and Kaiping in Guangdong. They went to San Francisco to pan gold, and then to Australia a few years later when gold was found there. Therefore, Chinese named San Francisco the "Old Gold Mountain" as Australia became the new "Gold Mountain". Subsequently, new emigrants built railroads, worked in laundries and restaurants, and struggled to save enough money to go home and enjoy retirement in their home villages.
Upon settling in the home villages, the Overseas Chinese found themselves targets of bandits who would rob and kidnap for ransom. To protect their families, richer returnees built many strong defensive towers in 1920s with steel windows and doors and gun slits. Having been exposed to Western culture, many returnees built their diaolous with European medieval, muslim, baroque, gothic, and Chinese decorations. The strong keeps are beautiful and yet very functional.
A few years ago, I trekked through these villages for days and took many photos of these diaolous. It was a joy to walk from village to village through farmlands, chat with friendly villagers in the local Taishan dialect, and bond with school children and old folks under banyan trees. In three days, I saw about 200 diaolous, a fraction of the 1,833 extent buildings.
…………………………………………………………………………..
This cluster of unoccupied diaolous housed several families whose descendants may be living in New York today.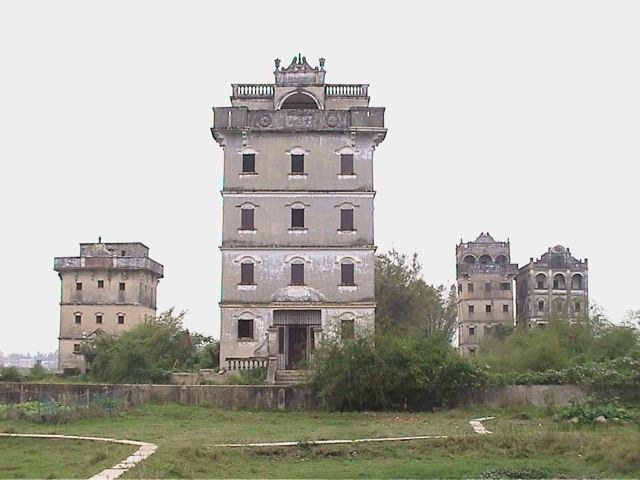 This simple and elegant keep would look very much at home in Romania. Old ladies described how such diaolous sheltered villagers from Japanese troops that swept the villages periodically. The Japanese troops could not ply open the steel doors and windows or break through the concrete walls. As they loathed to be in the guerilla-controlled hinterland after sundown, the Japanese troops would leave after a few attempts.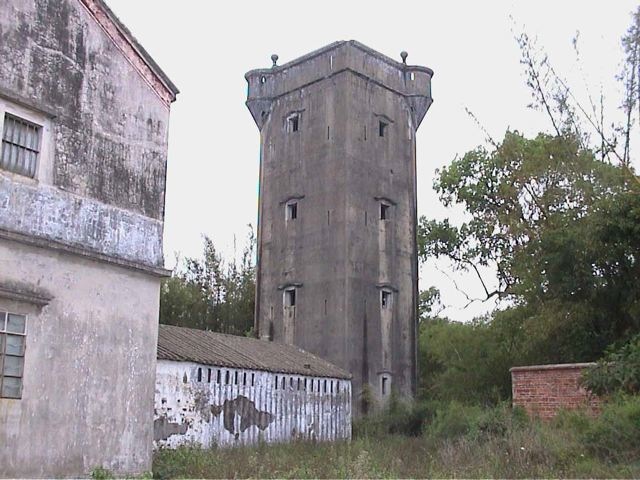 This elaborate and powerfully built diaolou look impregnable. It has gun slits on the floor of the overhung turrets that can be used to shoot bandits below. Unlike brick buildings, steel reinforced concrete diaolous are difficult to demolish and broken concrete are useless for building other structures. Therefore, most of the diaolous survived until today even though they are less livable than regular houses and have been abandoned for decades.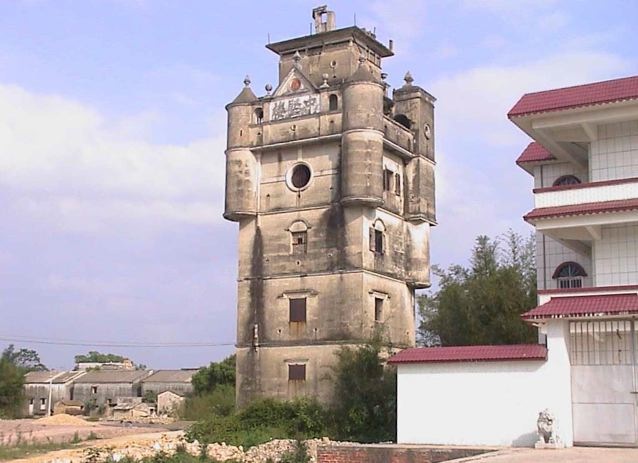 This tall diaolou guards a channel of the main river. During Sino-Japanese War, seven Chinese guerillas fighters were trapped in this diaolou for seven days, bombarded by Japanese cannons, and finally gassed, captured and executed. I spoke to an old man who described how this diaolou withstood bombardments, and how the starving fighters gestured to the distant villagers that they were hungry and thirsty.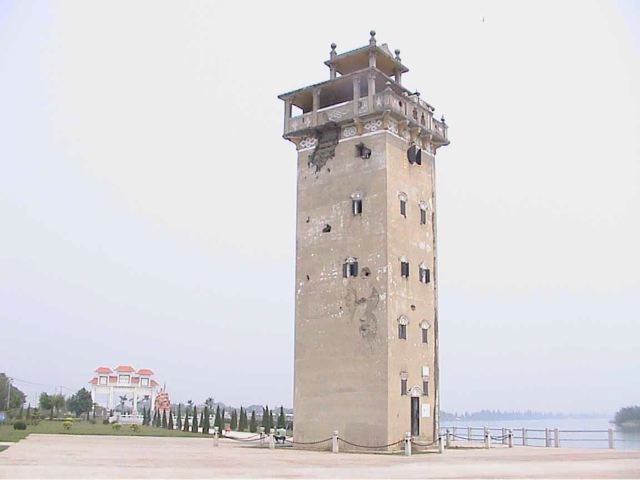 This diaolou has been leaning evermore since it was built 80 years ago.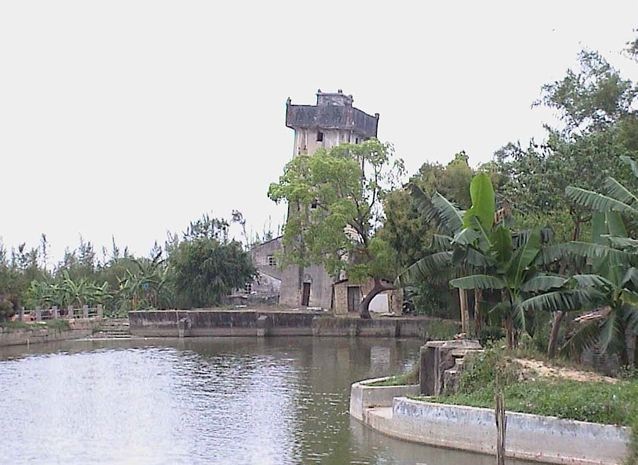 These two diaolous are the biggest and the most elaborate in Kaiping. Unlike ordinary diaolous that are too small and used only as sanctuaries, these two large diaolous have rooms and windows and are habitable.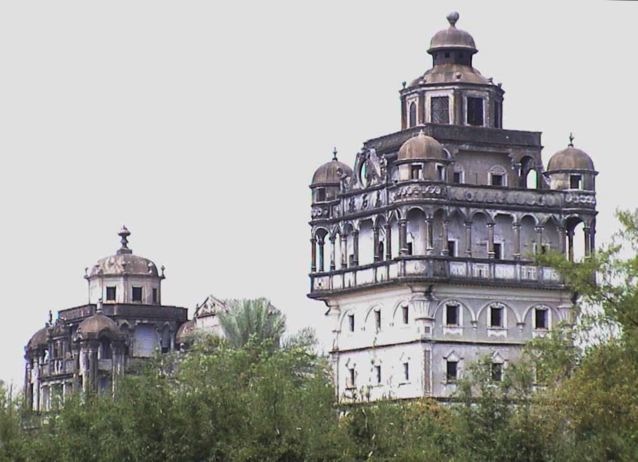 People gathered under flowers in a peaceful village protected once by the diaolous.