Star Ferry Musing #139.  Canada.  Land of Lakes
Written by Robert Wu for his family and friends
To read all 139 SFM articles, please access  http://www.starferrymusings.com/
If you wish to discontinue receiving SFM articles, please drop me a line.
如您不想收這些文章, 請告知.
**********************************************
When I look at the map of Canada, I notice an interesting feature in the provinces of Manitoba, Ontario and Quebec.  They have unusual number of lakes.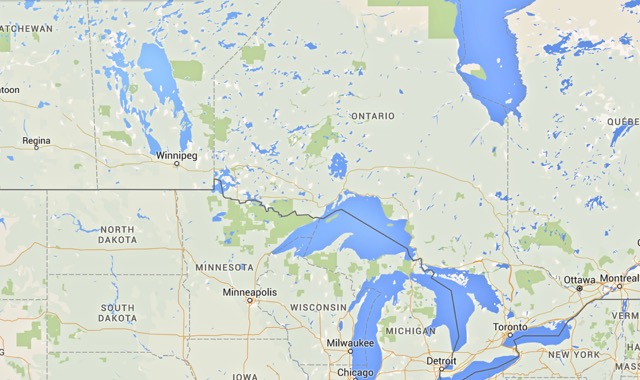 (Google Maps)

This detailed map shows the density of lakes in the region adjacent to Lake Superior.  I wanted to see this water-soaked land.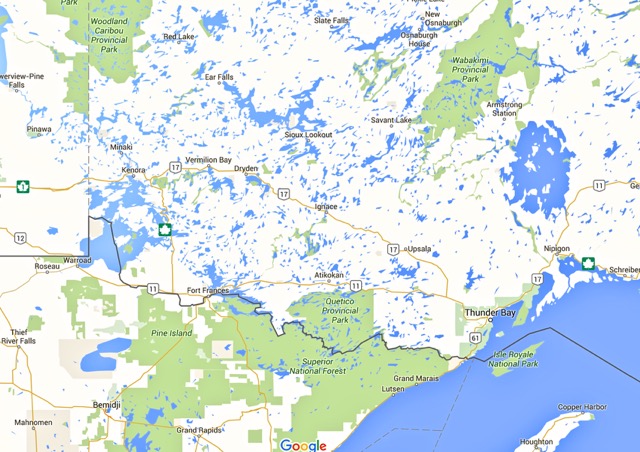 (Google Maps)
On a drive through this region of Canada, the road passes through many small scenic lakes.
(Sally Wu)
These lakes are dotted with small islands.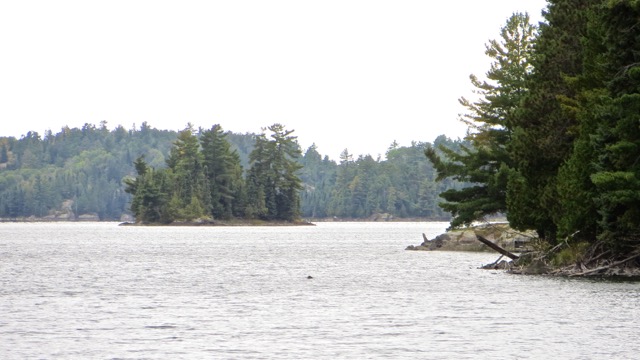 Some islands are inhabited with idyllic houses.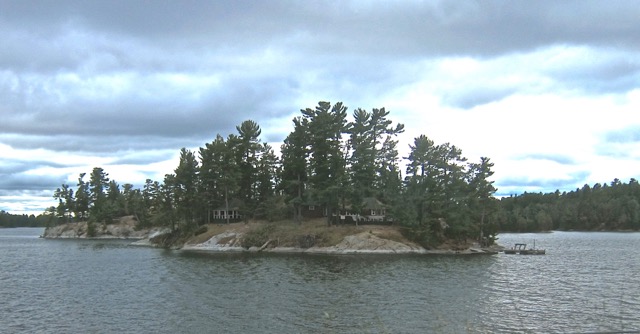 (Sally Wu)
The Lake of the Woods is one of the largest lakes in this region.  It has over 14,000 island.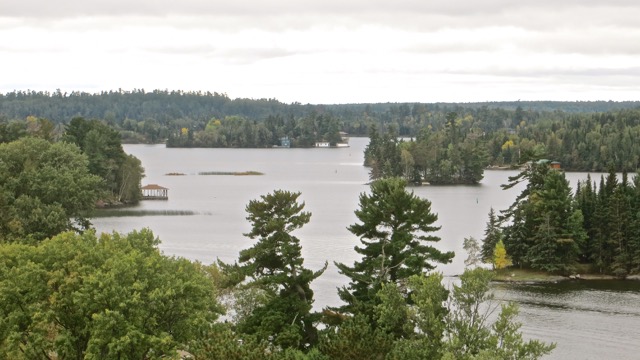 Some of the islands in this lake are inhabited.  This lakeside house looks very comfortable.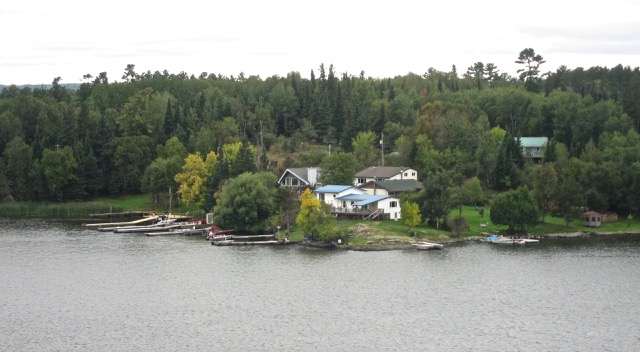 (Sally Wu)
People take advantage of the lakes and use boats to travel and fish.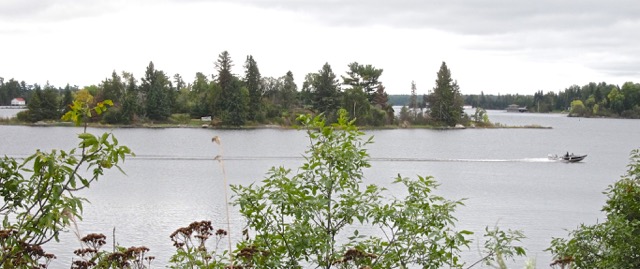 (Sally Wu)
This car is laden with kayaks and bicycles, ready for a weekend of physical activities.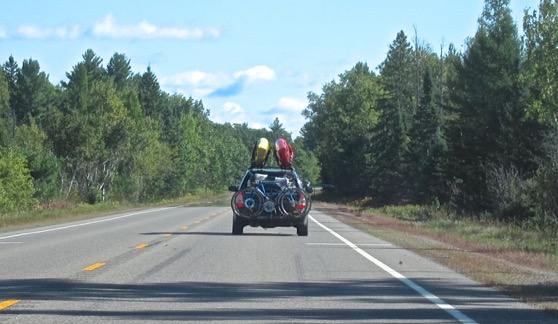 (Sally Wu)
This proliferation of lakes sits on a geological feature called the Canadian Shield, shown as the orange color area in the map below.  This area has some of the oldest rocks on Earth, containing igneous rocks from 4 billion years ago.  This region used to have tall mountains, but they have been eroded into relatively flat land with innumerable lakes on its impermeable solid rocks. The thin layer of soil over the bedrock renders agriculture unproductive.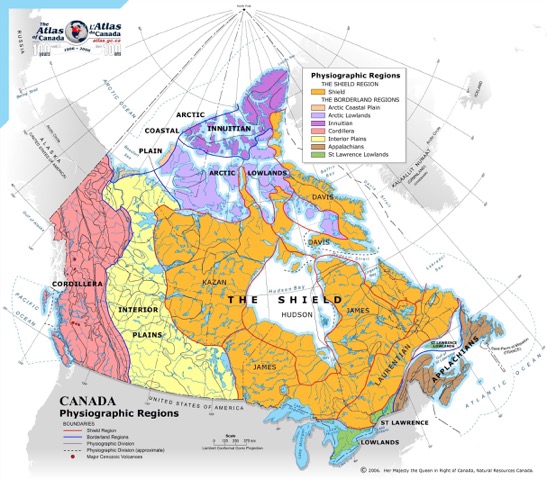 http://option.canada.pagesperso-orange.fr/shield.htm
The igneous bedrock is visible in this highway cut.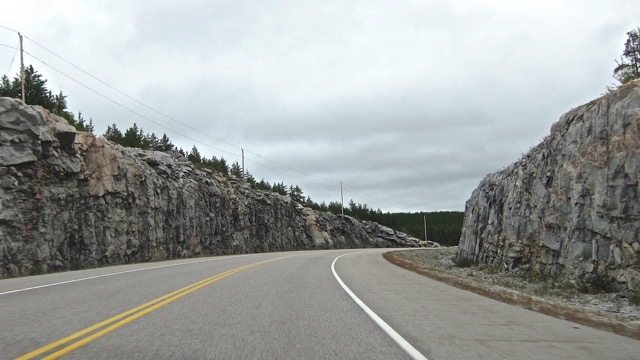 (Sally Wu)
It takes great effort to build roads through the Canadian Shield.  First, holes are drilled into the hard rocks and packed with dynamite.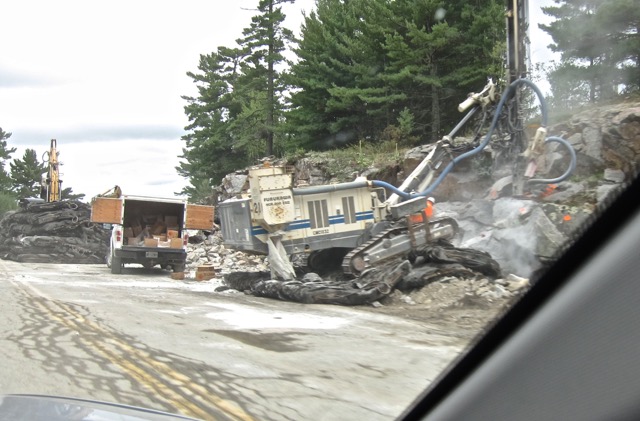 (Sally Wu)
Mats made with woven steel cables and used tires cover exploding dynamites to contain flying rocks.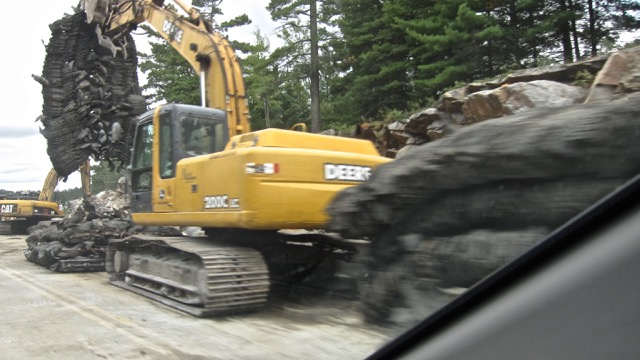 (Sally Wu)
Loosened rocks are collected from the blast sites.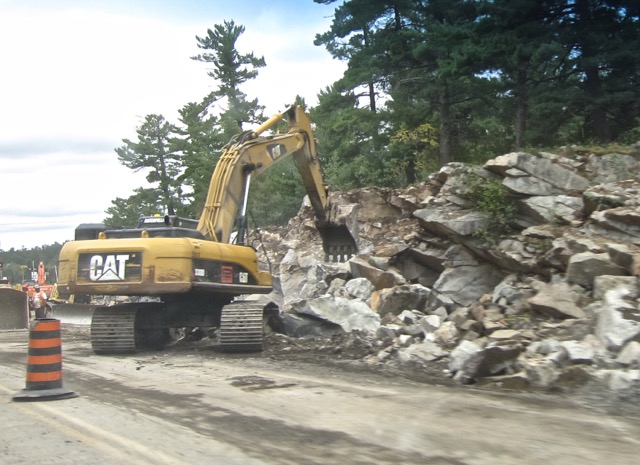 (Sally Wu)
The area is cleared of rocks and debris.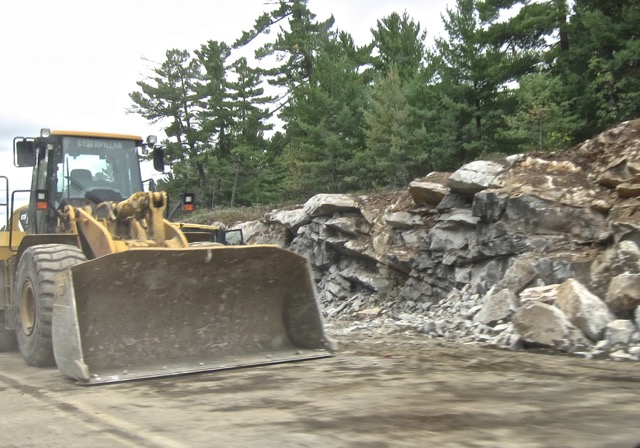 (Sally Wu)
The side of the road is prepared for the finishing touch.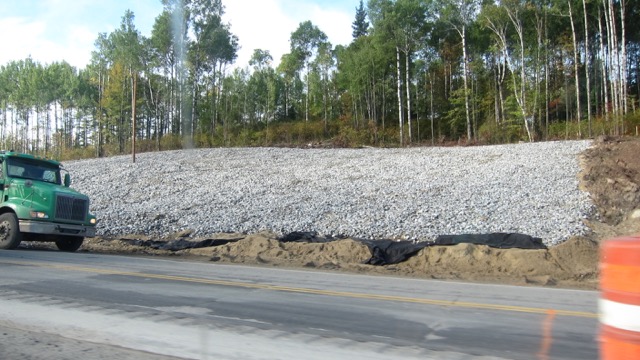 (Sally Wu)
We drive on beautiful and carefully maintained roads.  We appreciate the effort needed to provide these facilities to us.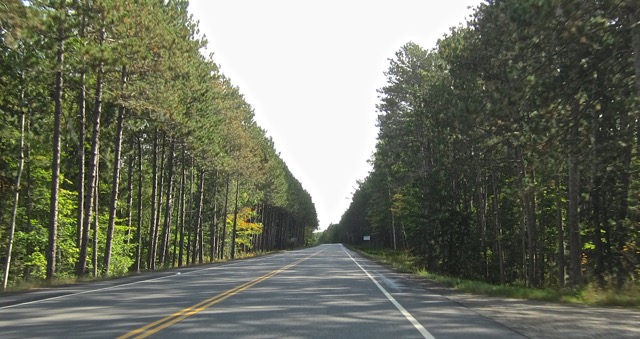 (Sally Wu)
Materials for construction and maintenance are stored as colorful piles of gravels.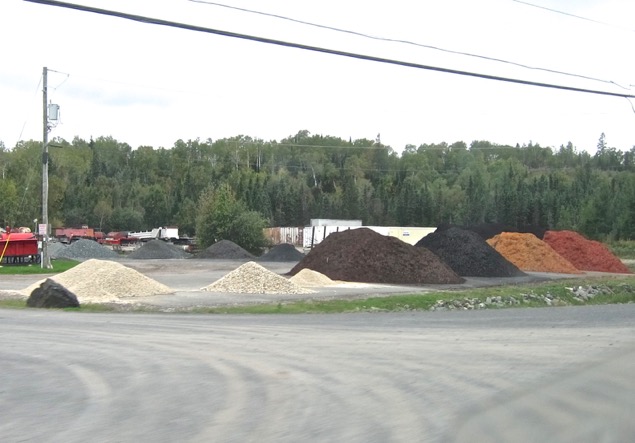 (Sally Wu)
They remind me of piles of colorful spices in Indian grocery stores.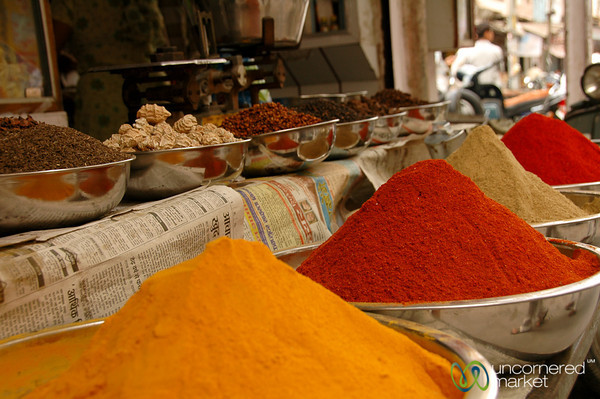 http://photos.uncorneredmarket.com/keyword/Indian spices/
Our drive through the land of lakes ends at the shore of Lake Superior.  This old light house used to guide ships navigating in this gigantic lake.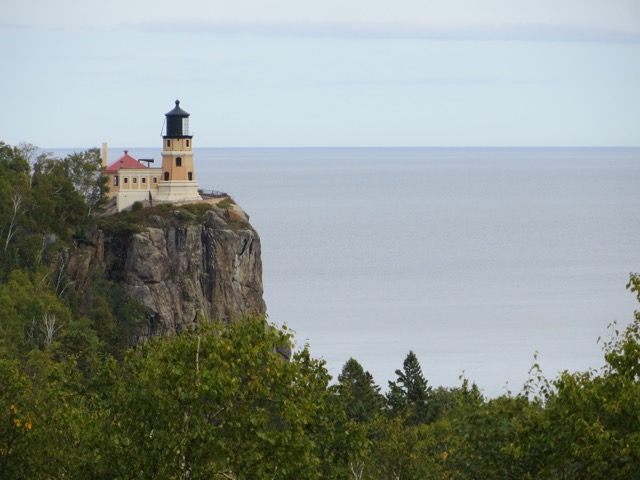 As in the old days, log cabins are still being built.  In this mass-production factory, logs are cut and assembled into log cabins.  When finished, they are dissembled and shipped to buyers' sites to be reassembled again.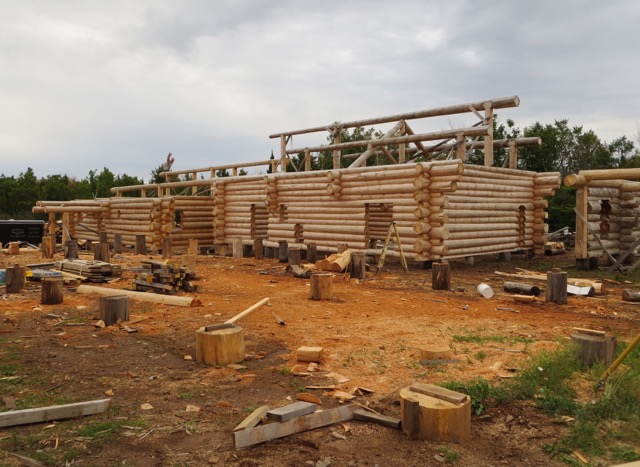 This region of Canada has horrendous winters.  This fire hydrant has a six-foot high pole to indicate its location when it is covered by deep snow.  By then, this house will have snowmobiles in the front yard instead of fishing boats.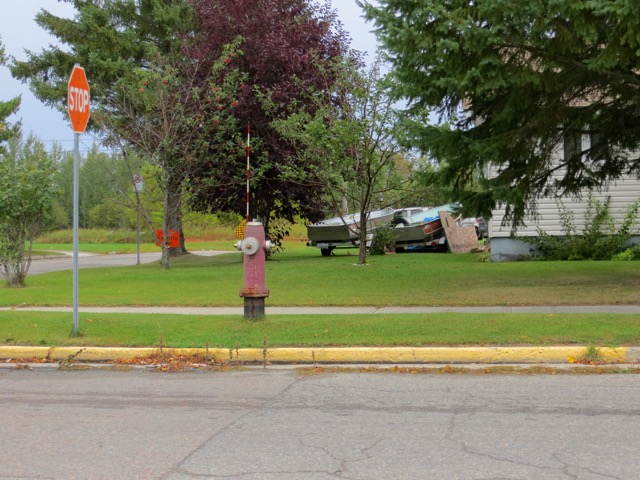 *****************************************
Note:  If you enjoy reading this blog, feel free to forward it to your friends.  But please do not modify this blog in any manner.