Star Ferry Musing #136. Curiosity. Look Close
Written by Robert Wu for his family and friends
To read all 136 SFM articles, please access http://www.starferrymusings.com/
If you wish to discontinue receiving SFM articles, please drop me a line.
如您不想收這些文章, 請告知.

**********************************************
To fully enjoy my travels, I look closely and pay attention to details.
One of my favorite places is Angkor Wat in Cambodia. The main temple has a long corridor lined with a 1,000 feet long, beautifully carved stone wall. It offers intricate details of Cambodian history and everyday life.

Almost every square foot of Angkor Wat is covered with carvings and statues. Unfortunately many of the beautifully carved heads have been stolen for sale to "collectors".

In Yun Gang Grotto (雲崗石窟), a renowned repository of Buddhist carved art in China, I admired the compassionate and elegant faces of 1,600 year old statues and bas relief carvings.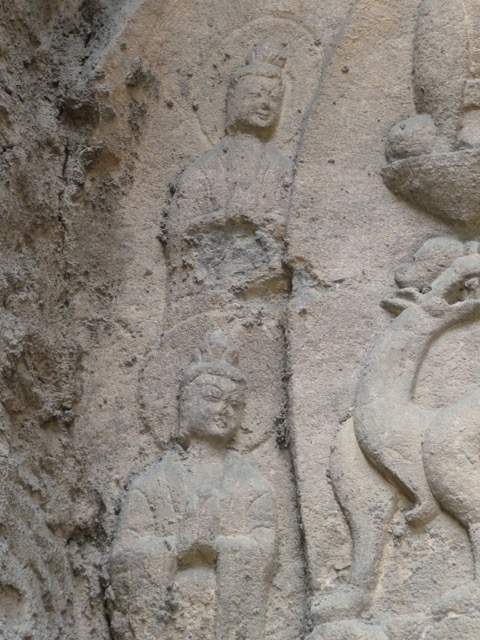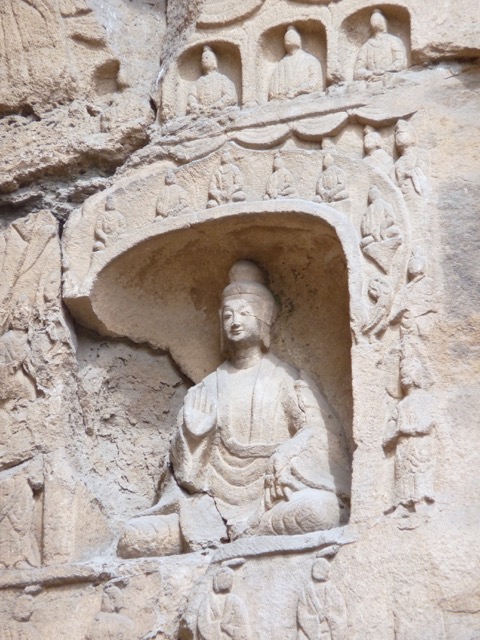 We visited Persepolis in Iran and were dismayed by its almost complete destruction by Alexander the Great in 330 BCE. Of the enormous palace complex, these bas relief carvings of Persian warriors were some of the few artifacts that escaped vandalism.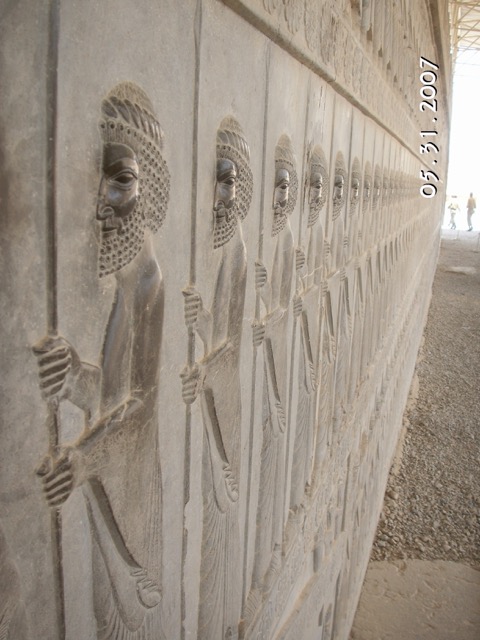 Frequently, cultural monuments are senselessly destroyed during periods of upheaval. Confucius (孔夫子) preached societal harmony and meritocracy, and was esteemed higher than reigning kings and emperors for 2,000 years. To avoid offending monarchs, the inscriptions on his tombstone were skillfully written to partially hide the honorific word "king (王)". Apparently this modesty was not enough to avoid the scourge of the Red Guards who smashed the tombstone into bits in 1966. The fragments had since been reassembled into one piece, but his desecrated remains can never be found.
I wonder if the ancient monuments brutally vandalized by ISIS in Syria can be repaired and resurrected.
In Xi'An (西安), I visited the location of cosmopolitan Tang Dynasty's (唐朝 618 – 907 CE) Da Ming Palace (大明宮) where emissaries from many countries were entertained. These workers were restoring the palace and building a retaining wall around the palace foundation mound.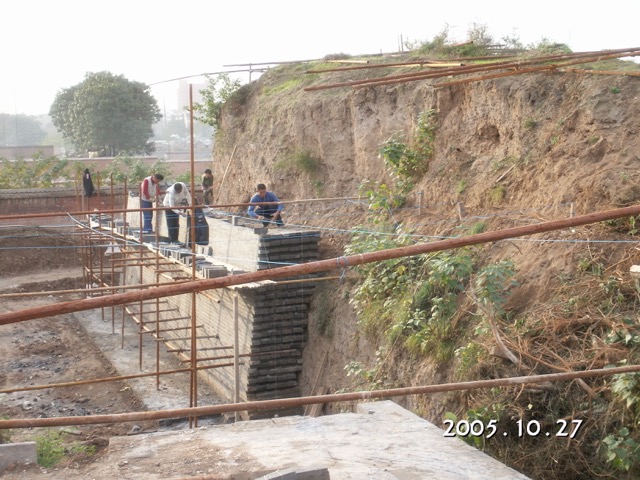 As the site was excavated and destined to be covered by restoration, I walked around and saw many remnants of the palace structure. This was a fragment of a thousand-year-old inscribed brick, sitting next to a fragment of a tiled roof. The mound must had been an archeologist's paradise.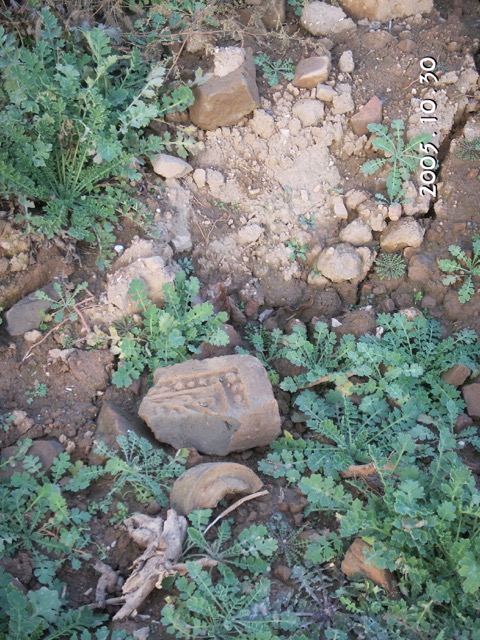 I developed a habit of looking for stone hearts to be presented to Sally. I scan the ground when I walk around, and rejoice when I find a gem. This white heart hid among pebbles in Taroko Gorge (太魯閣) in Taiwan.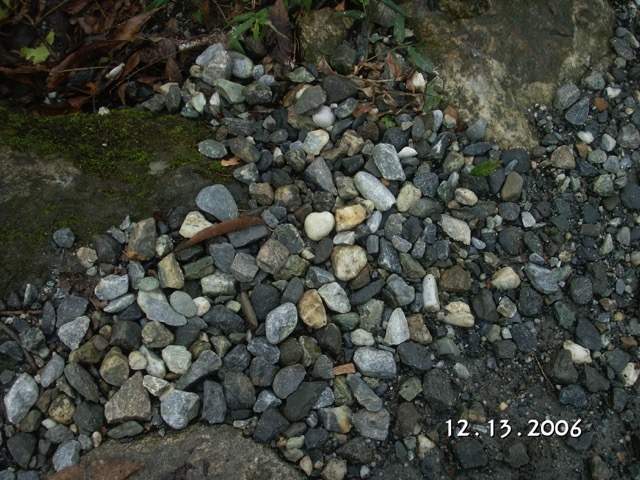 On Sanibel Island of Florida, we saw millions of shells on its beach. Unfortunately, all the large, interesting or colorful ones had been collected and those that remained were small common shells.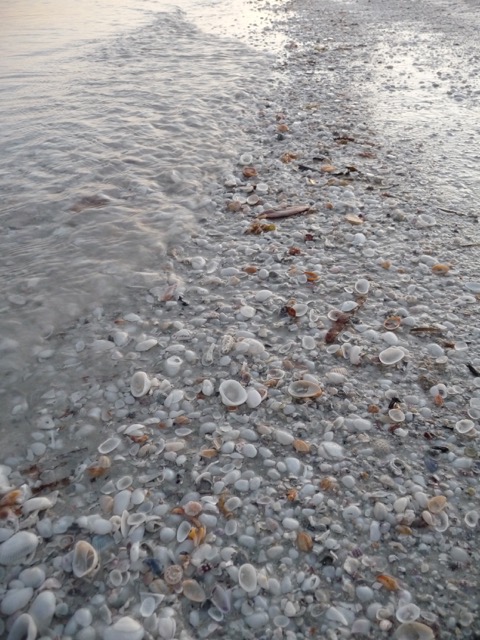 Interesting relics show up in some of the least expected places. This fossil of a shell was embedded in a stair tread stone.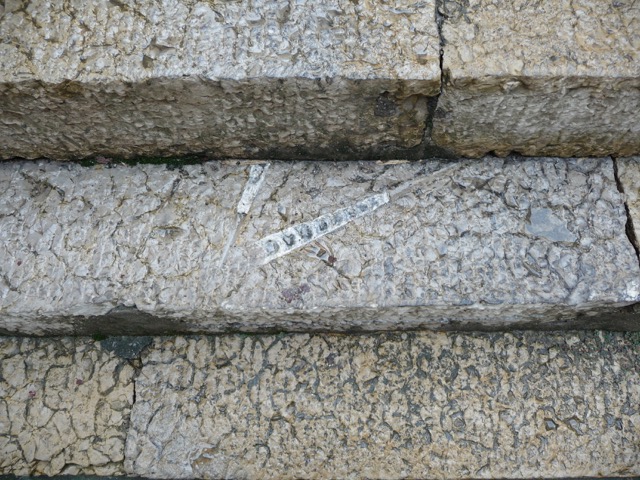 Some visitors apparently felt the layers of sedimentary rocks were not secure enough and propped them up with tiny sticks.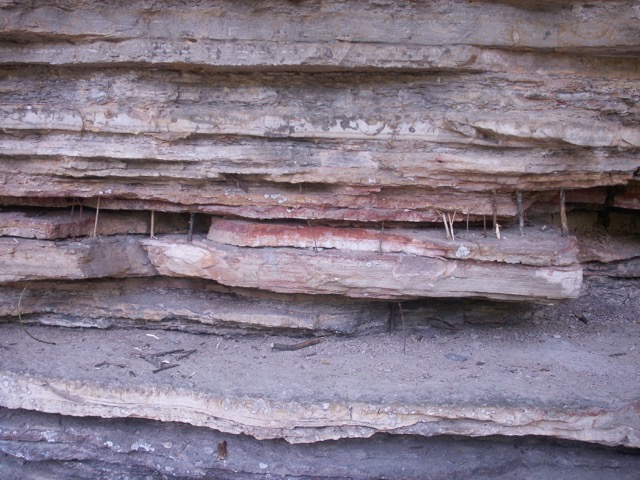 In this corner of a Taoist (道教) temple in Wu Dang Mountain (武當山), two tiny columns propped up the ornate roof. As a structural engineer, I recognized that spot as an important part of the load bearing wall. This license to decorate stirred my instinct by appearing to be insecure. Now I know how those visitors felt about the sedimentary rocks.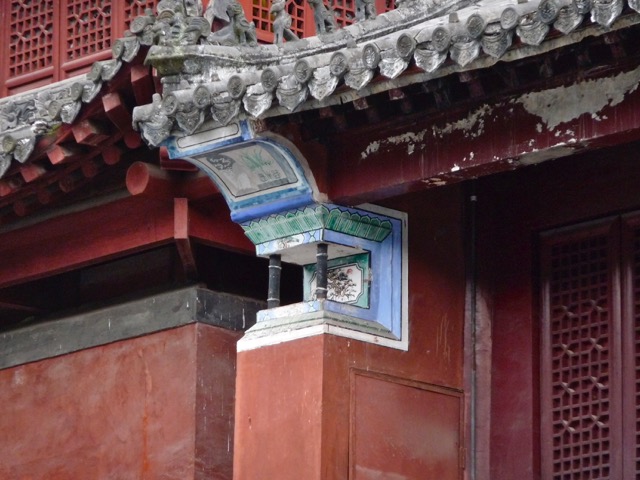 In a rich financier's former house in Ping Yao (平遥), one half of an old coin was found embedded in the mortar of a wall. Apparently it was built-in to the house to bring auspicious tidings.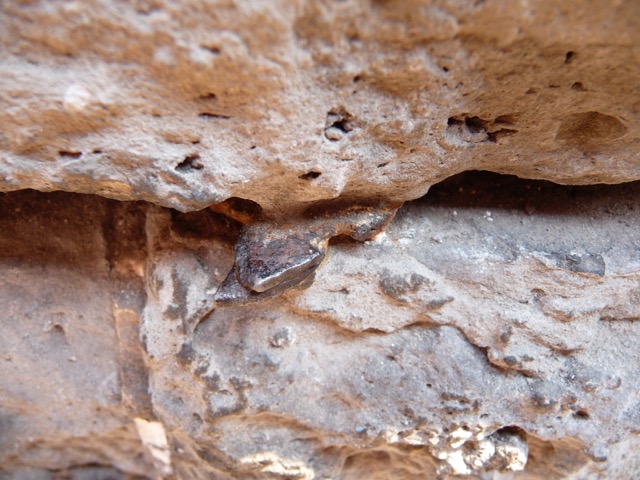 The Mint building in San Francisco prints and mints money. Its exterior is decorated with large copies of silver coins. Money is valued all over the world.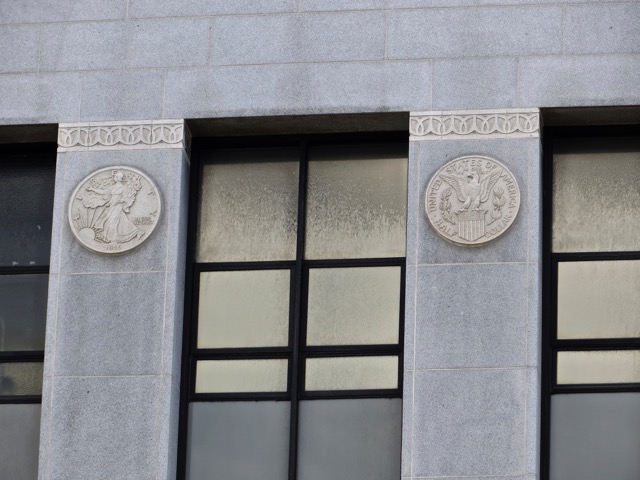 In St Mark's Basilica in Venice, elaborate mosaic pictures grace the building.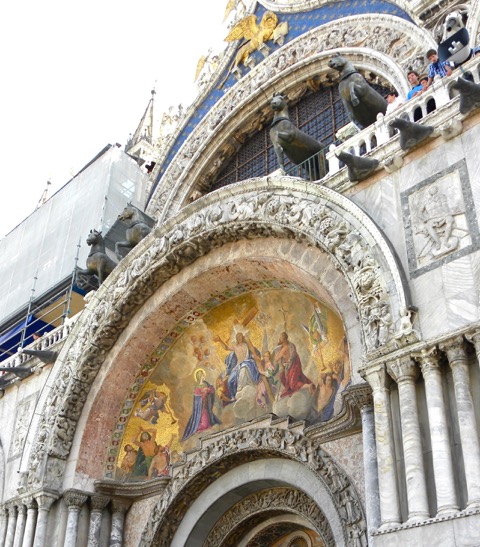 Upon closer inspection, millions of well placed tiny tiles create the intricate pictures.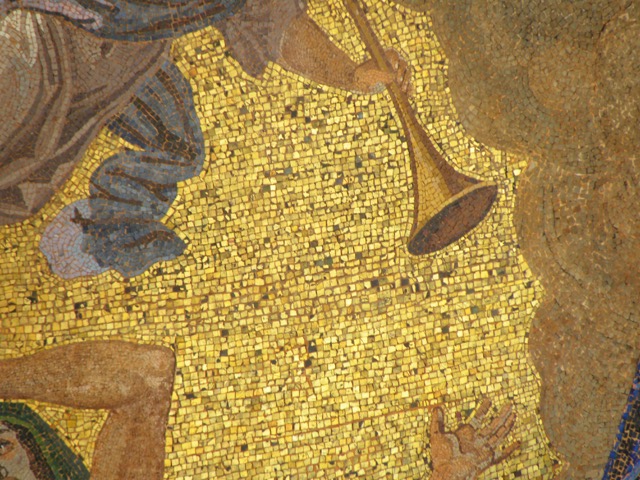 In Half Moon Bay town in California, creative application of tiles produced this cheerful modern mosaic.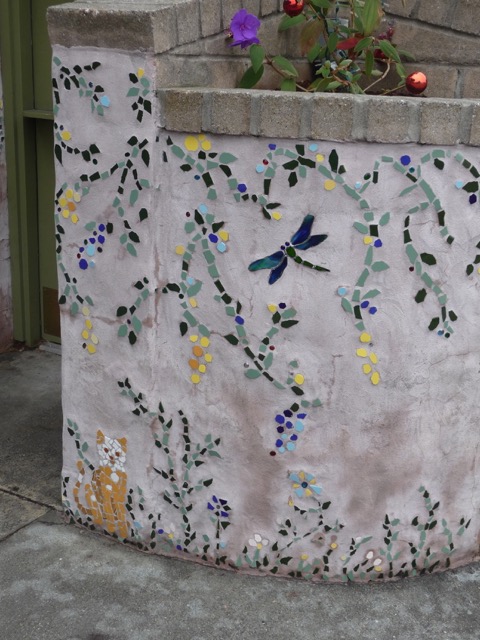 The ceiling of a former Muslim palace in Seville, Spain, is painstakingly decorated with intricate swirls.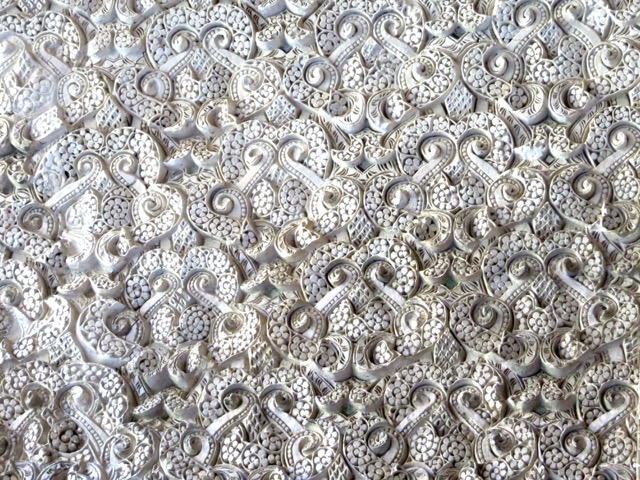 The most beautiful building we have been to is the Taj Mahal in India, a combination of Persian and Mughal artistic traditions. Its white marble renders the enormous structure airy and light, appearing to float off its foundation.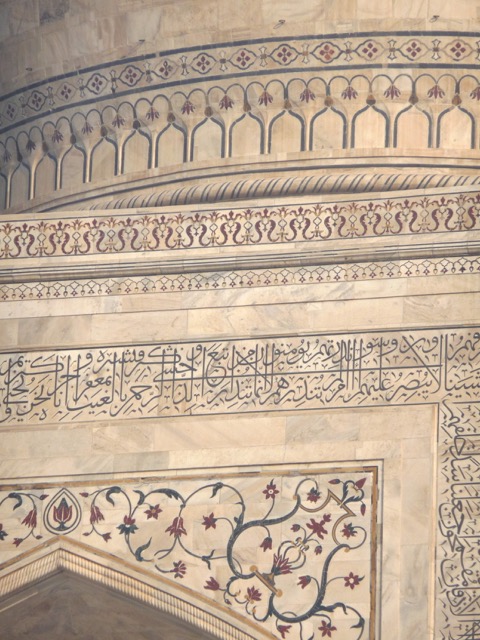 We were not allowed to take photos inside although many other visitors took pictures anyway. This photo from the web demonstrates how elegantly designed and skillfully executed inlays covered all the walls and surfaces. We could spend hours gazing at these artwork of colorful and semiprecious stones.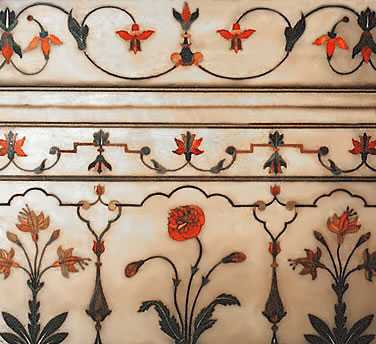 (From web)
Islamic Republic of Iran suppresses expressions of sex, requiring all women to cover their bodies and hair. But I found these not-so-subtle door knockers. This one is to be used by men.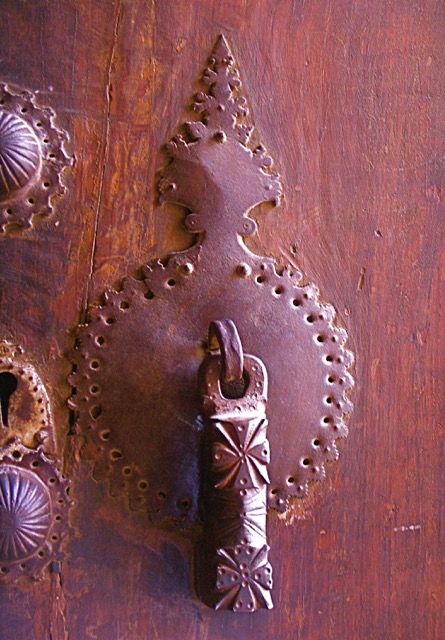 On the other door panel, this knocker is to be used by women. Perhaps different knocking sounds announce the gender of the visitor.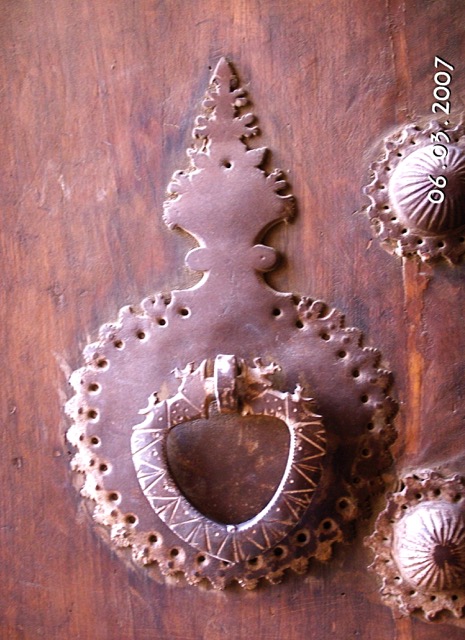 On a street corner in San Francisco, I found this lamp post covered with ancient and rusting staples. If this lamp post could talk, it would tell countless stories about lost dogs and hippie love-ins.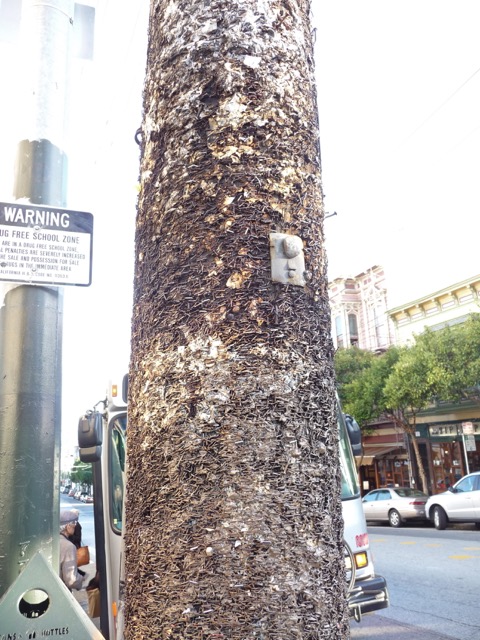 In a doctor's considerate waiting room, I found chairs catering to people of different sizes and heights.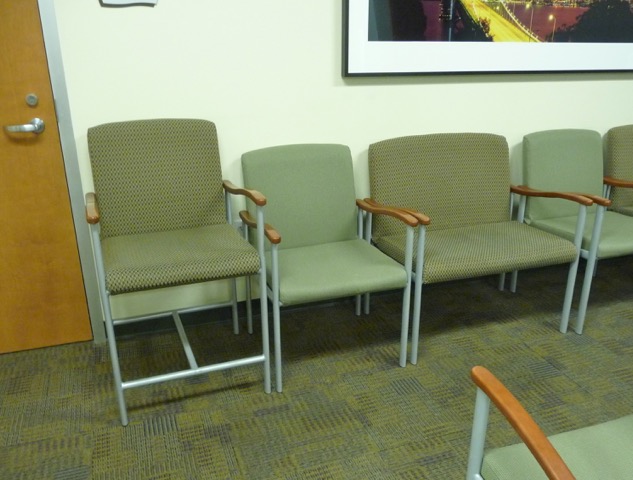 We stayed in a friend's apartment in San Francisco several years ago and saw this cable car outside our window. We looked at each other and exchanged greetings. After a few days, we became oblivious to the rail noise and the clanking bells.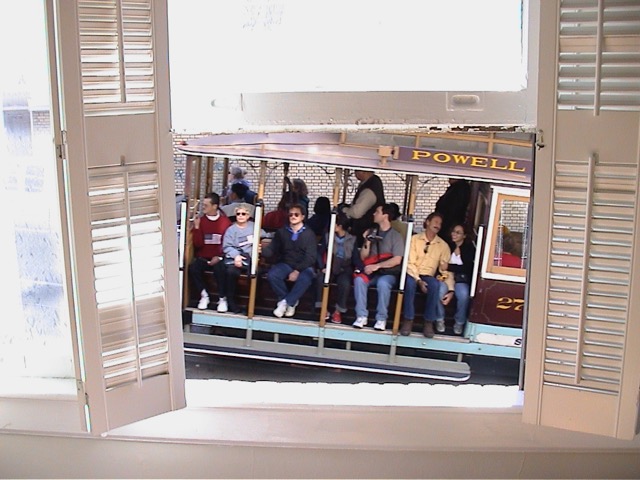 In Kenya, we watched this leopard resting on a tree as it watched us. I always wondered why these predators did not attack people riding in open vehicles.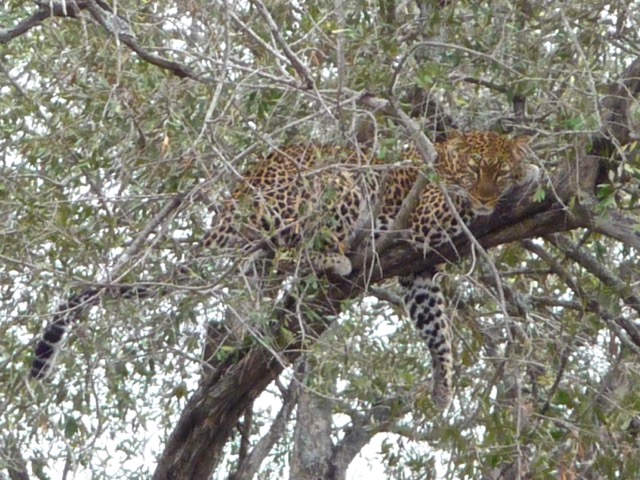 This porcelain bull was placed on a tree to watch pedestrian below.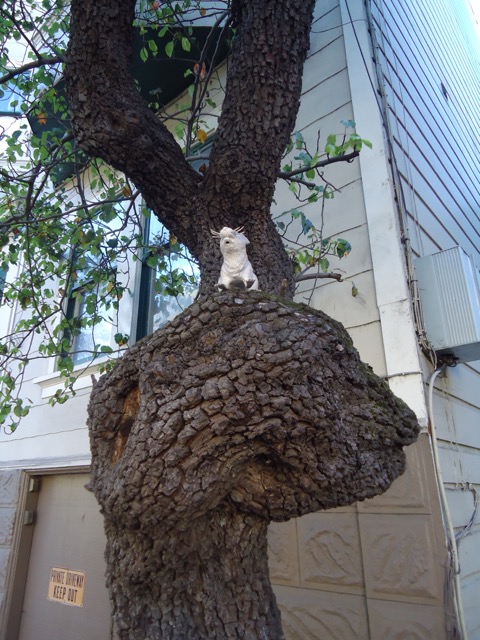 Somebody cleaned up too many times after inconsiderate dog owners and offered free dog poop bags in a little perch nailed to a tree.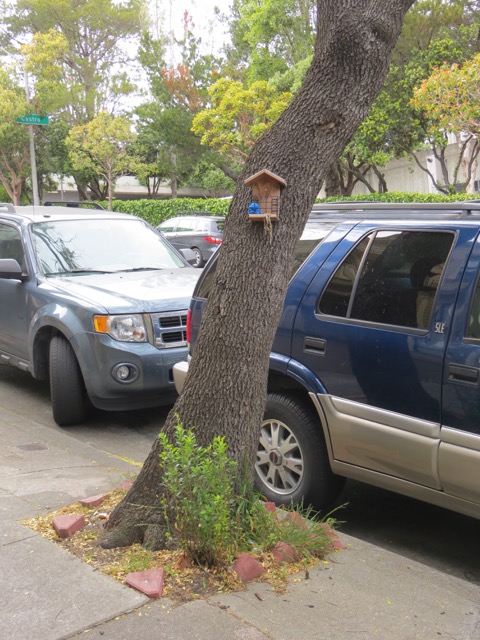 Another home owner livened up the mail box with a diorama of a messy camper site.

As an ultimate expression of tiny things, one hotel in China provided its guests with tiny rolls of toilet paper adequate for one visit only. Obviously, they were confident their guests were all healthy.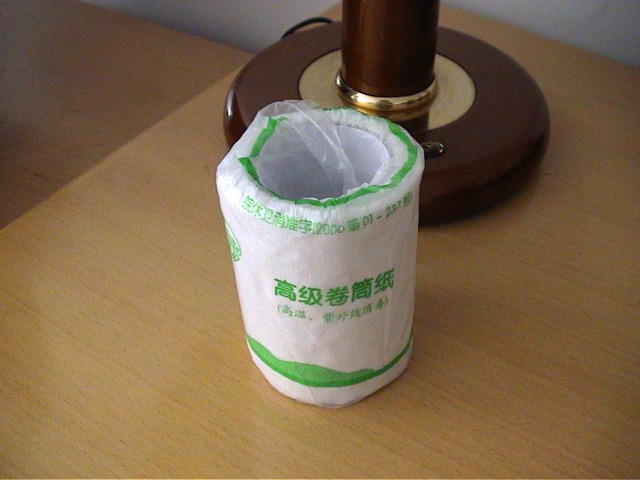 *****************************************
Note: If you enjoy reading this blog, feel free to forward it to your friends. But please do not modify this blog in any manner.