Star Ferry Musing #103: Ceramic Food
Written by Robert Wu for his family and friends
To read all articles, please access  http://www.starferrymusings.com/
If you wish to discontinue receiving SFM articles, please drop me a line.
如您不想收這些文章, 請告知.
************************************************
I love to eat.  I think good food is one of the greatest enjoyments in life.  But Sally is keeping me on a tight leash and does not allow me to eat too much and get fat; nor allow me to eat foods that are bad for my health.  This restriction keeps me thinking about enjoying good food all the time.
In the last few months, I have been on a food kick in the ceramic studio.  In making ceramic models of foods, I indulge in thinking about delicious, decadent, fattening, cholesterol-laden foods.  And I have not gained any weight.
Chinese food:
Roast pork buns (叉燒飽).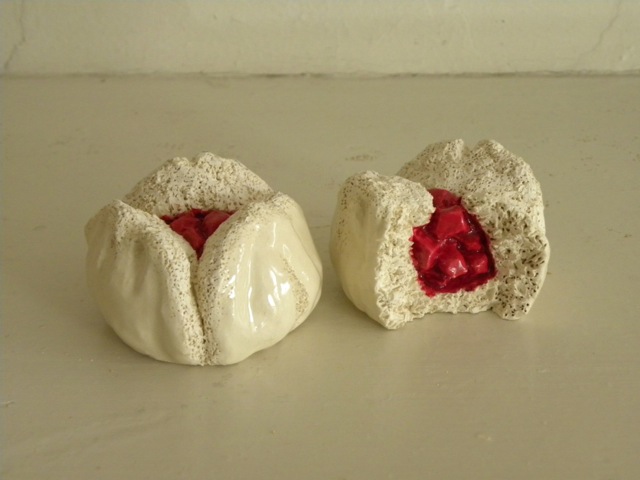 Pot stickers (鍋貼).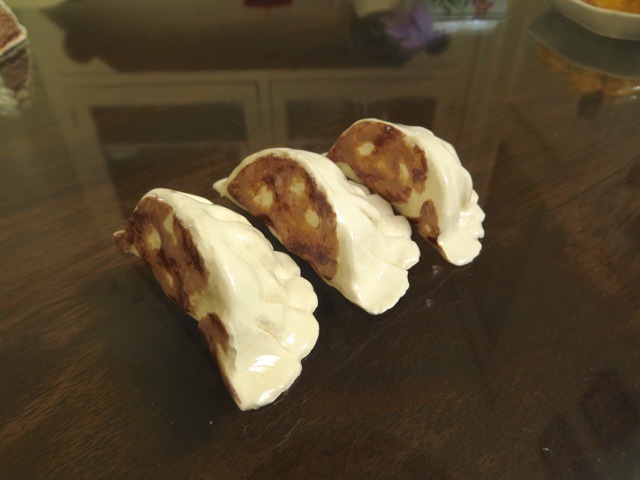 Xiaolongbao (小籠飽).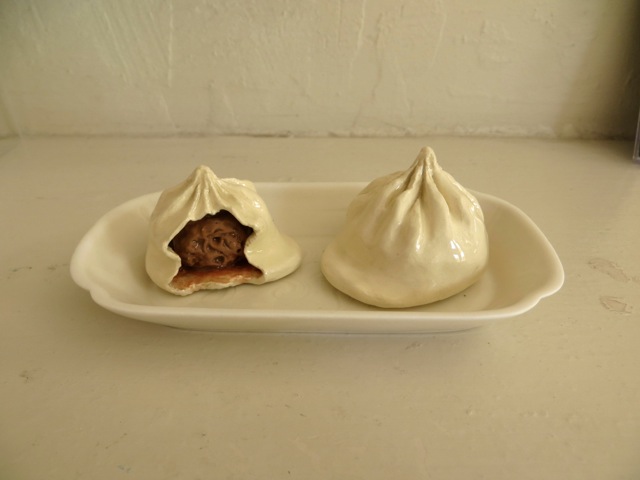 Moon cakes (月餅).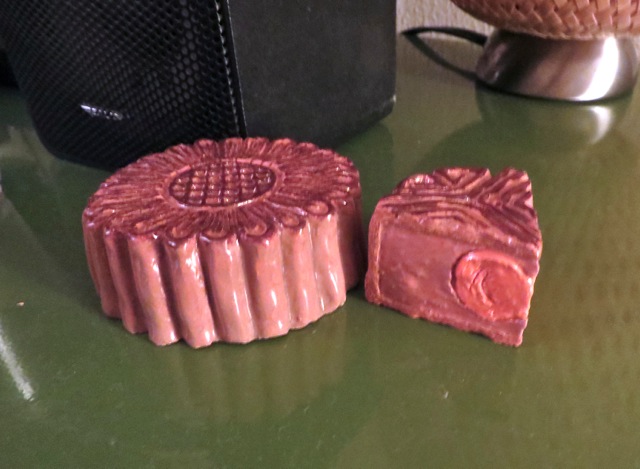 Breads:
Bagels with cream cheese.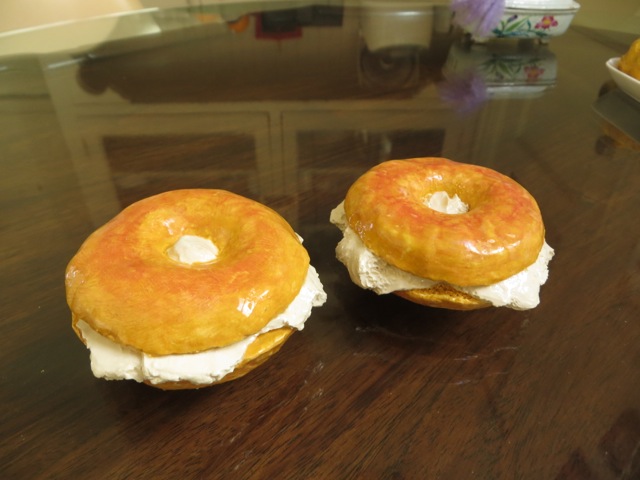 Hot dog.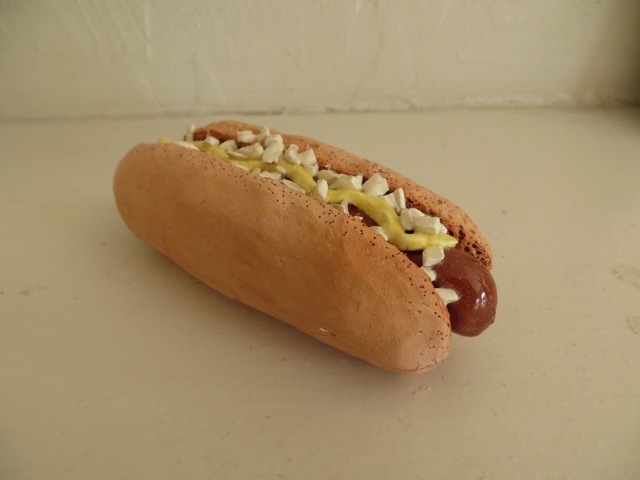 Cheese burger.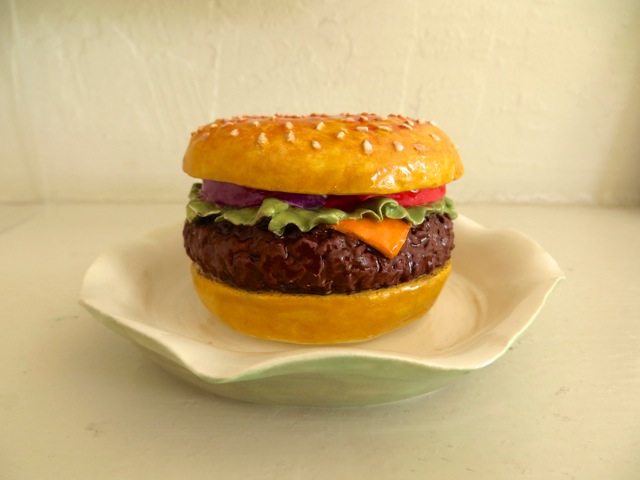 Pastrami on rye with new pickles.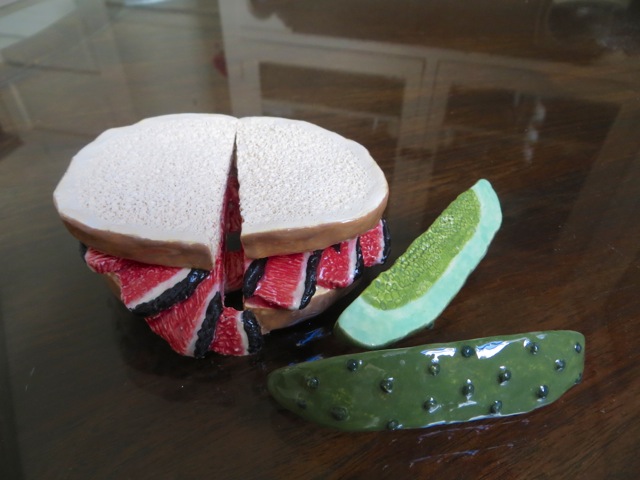 Biscotti biscuits.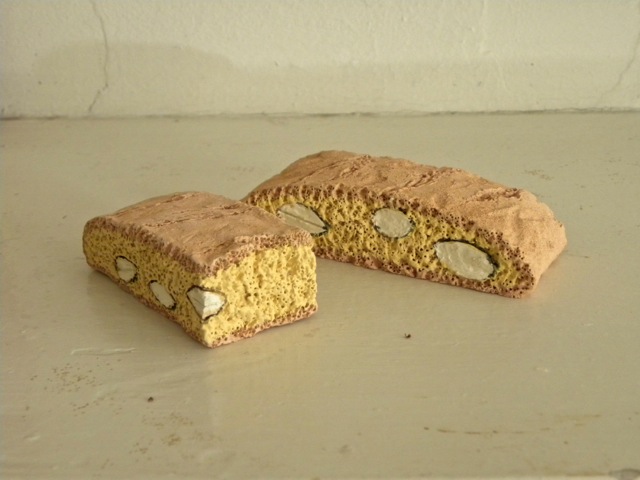 Desserts (My favorite theme):
Waffle a la mode.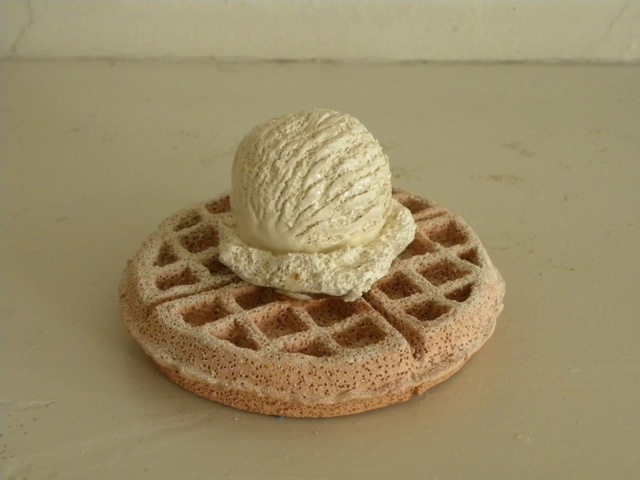 Strawberry shortcake.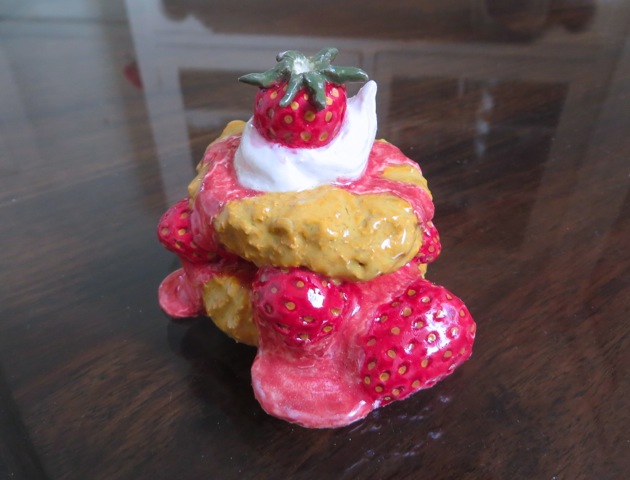 Ice cream cone.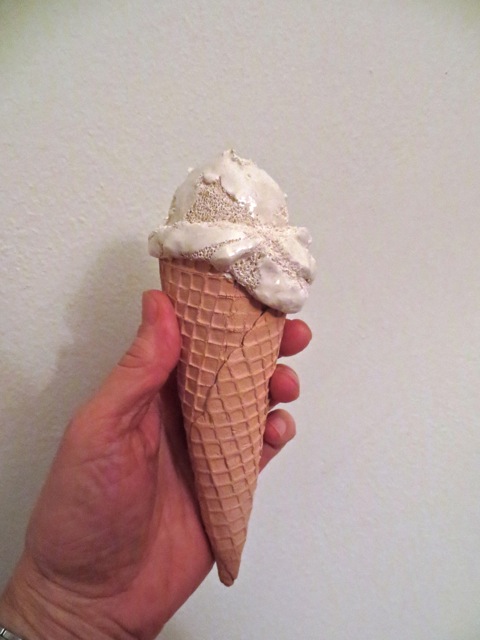 Cheese cake.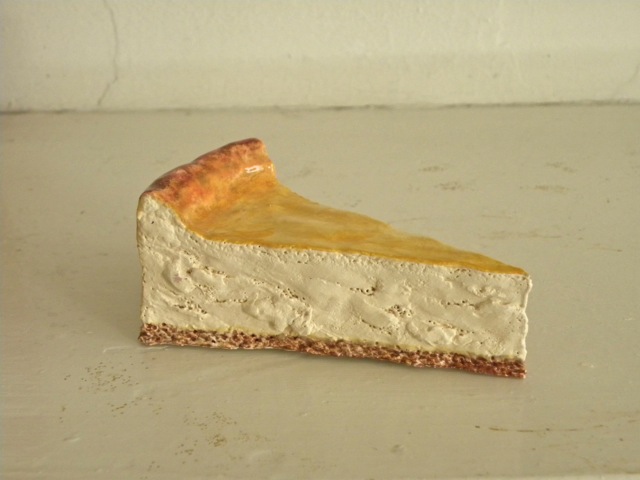 Cherry pie.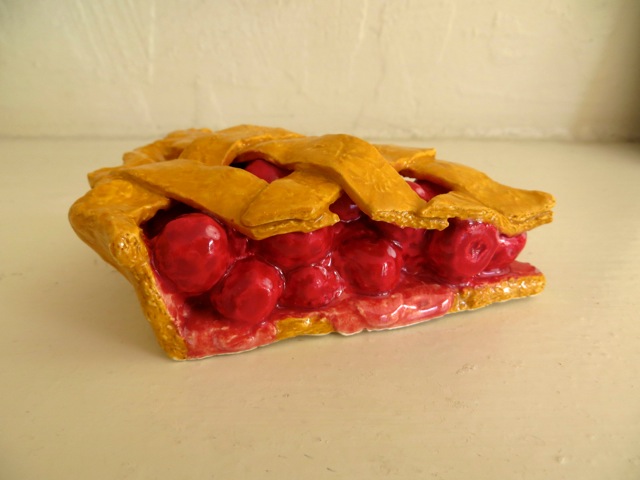 Blueberry pancakes.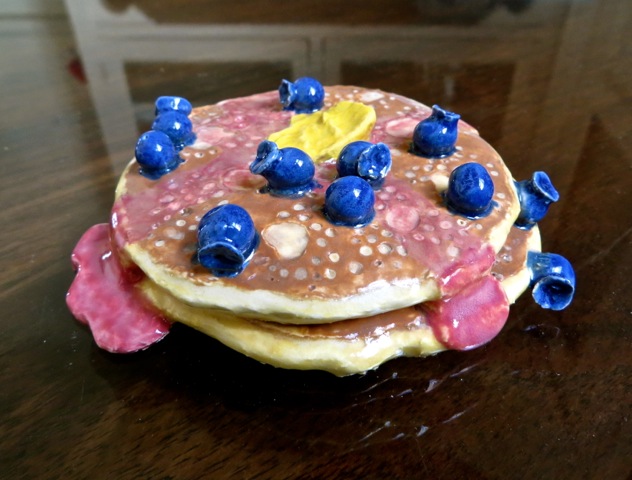 Chocolate-dipped strawberries.
My ceramic work-in-progress spread out on a table.  They are bisques after the first firing; and before colors and glazing are applied and fired again.  One of the items on the table is real food, but the others can break you teeth.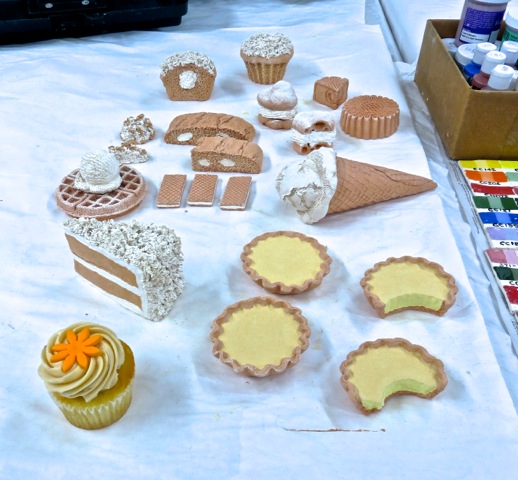 I made trays of fortune cookies as a fund raiser for the senior center.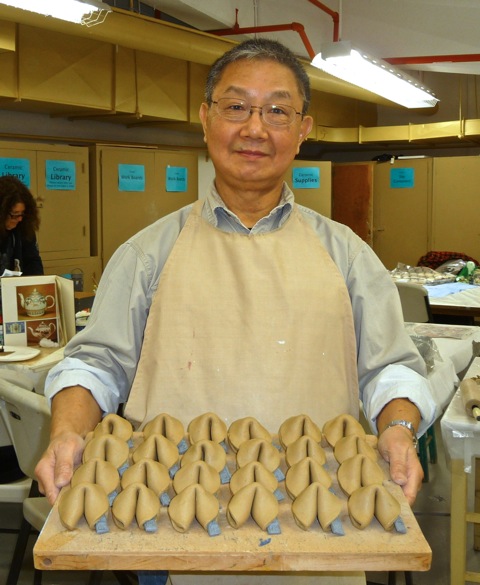 (Sally Wu)
Fortune cookies.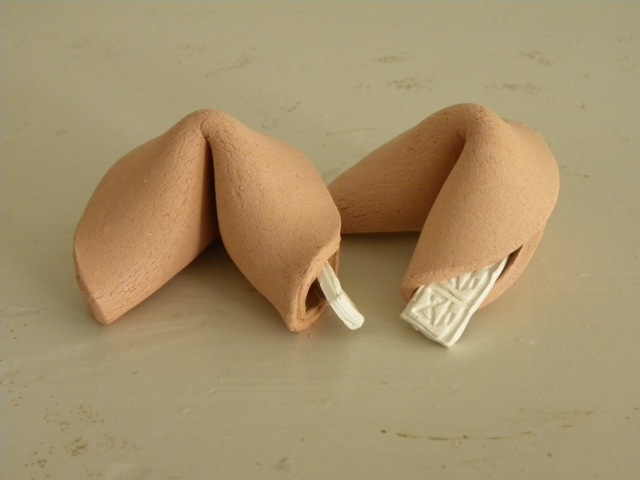 The writing on the fortune slip is my seal for all my ceramic works.  It is my last name Wu (伍) written in the ancient Chinese "seal script (篆書)" used over 2,000 years ago.  The writing evolved through the years to the current form.

(from web)As I made so many food items, I run out of space at home to display them all.  I have to rotate them on the display shelf.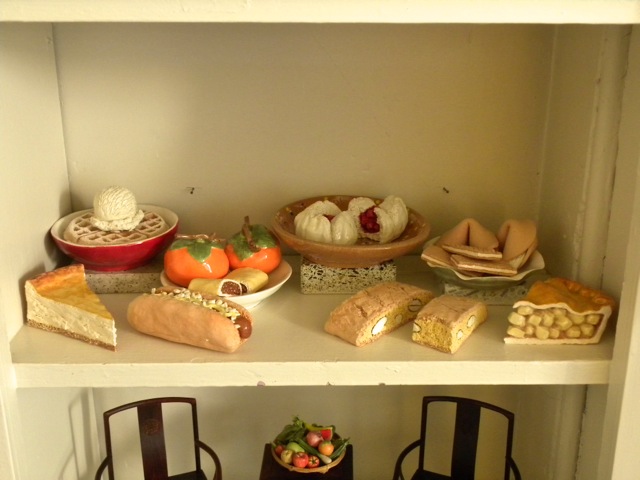 Note:  If you enjoy reading this blog, feel free to forward it to your friends.  But please do not modify this blog in any manner.