An Accelerating Phenomenon
Two years ago, WuHan 武漢 city held an unusual ceremony. Over 500 young men and women wore the the Chinese clothing hanfu 漢服 (traditional clothing of the Han 漢 people) that was worn for the last 4,000 years to attend the traditional adulthood ceremony. For men, it's called guanli 冠禮, and for women it's called jili 笄禮. They honored their traditions and ethics, teachers, and parents; and were crowned with the traditional adulthood headgear.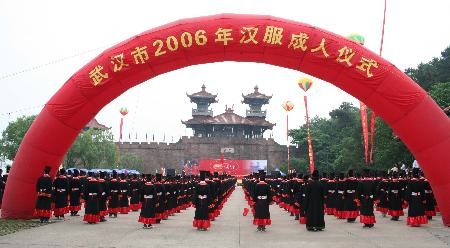 (from web)
(from web)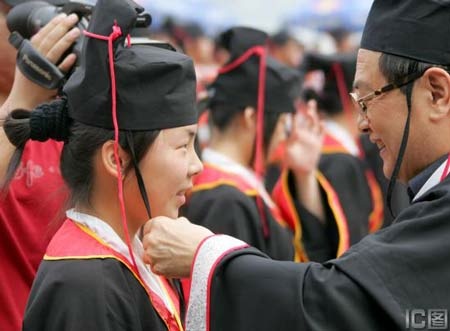 (from web)
In XiAn 西安, young women thank their parents for the gift of life and upbringing.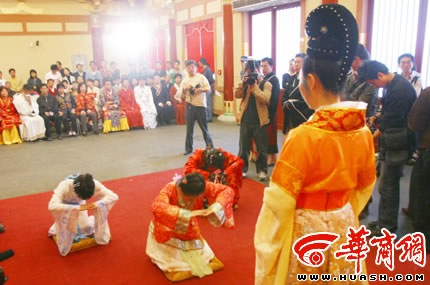 (from web)
WuHan young people dressed in hanfu and held a moon ceremony during the mid-autumn festival.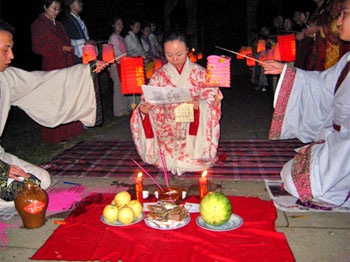 (from web)
Many similar ceremonies involving the wearing of hanfu are taking place in China. Some people are advocating the use of hanfu in college graduation ceremonies. They are the beginning of a hanfu revival movement sweeping China and is a reflection of the Han Chinese people gaining more self confidence and revitalizing their roots.
The Demise of Hanfu 漢服
Hanfu had been worn continuously as the traditional clothing of the Chinese people for 4,000 years until it was banned in 1644 by the conquering Manchu 滿州 tribe from the northeast. While all other 55 nationalities of the Chinese Nation have their own traditional clothing, the majority Han, composing 92% of the Chinese population, does not currently recognize nor wear its own ethnic clothing. For example, the Miao 苗 tribe wears a lot of silver and have intricate embroideries.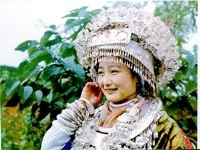 (from web)
Hanfu was banned 360 years ago, but it has not disappeared from view or memory. While ordinary citizens were forced to wear manfu, Buddhist and Taoist monks were exempt and allowed to wear hanfu. Many Chinese movies and TV shows have topics of old China, and their actors wear hanfu. Most Chinese consider hanfu to be old clothing 古裝, theatrical costume 戲服, or simply a dead clothing style. Hanfu has been relegated to the status of an alien or outlandish clothing, has not gained legitimacy in everyday life, and certainly not to be worn by any serious, self respecting Han person.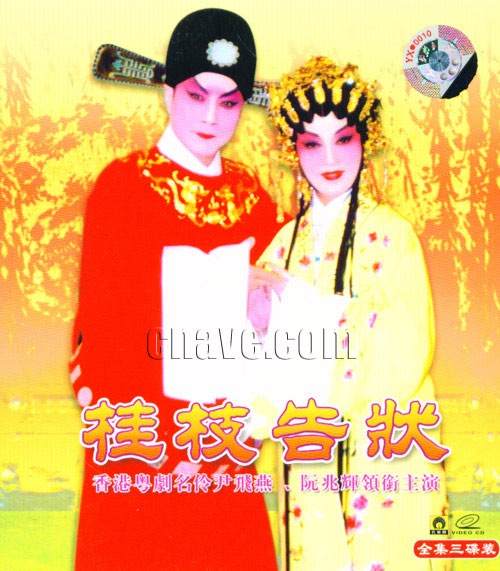 (from web)
The Rise of Manchu Clothing 滿服
To the ordinary Chinese and to the rest of the world, the tight fitting cheongsam 長衫 or qipao 旗袍 is recognized now as the traditional Chinese dress. It is elegant, functional, and sexy today, but it started out as the clumsy shapeless clothing of the semi-nomadic Manchu tribe and should be properly named manfu 滿服. It became form fitting since the 1920s when Shanghai women tailored their cheongsams to be more stylish.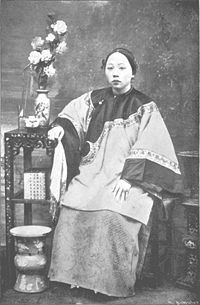 (from web)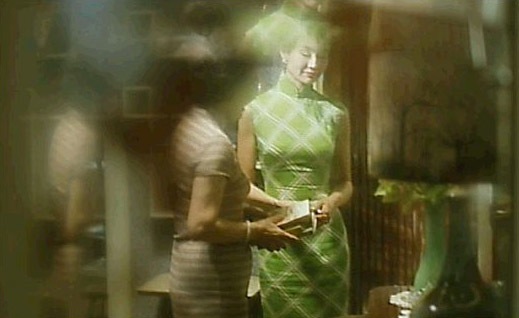 (from web)
Even I did not break the mold and wore a silk manfu for a special event.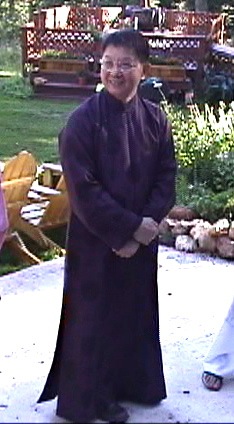 After the Manchu conquest, Chinese people were forced to wear not only manfu, but had to sport the ridiculous looking Manchu hairdo as well. While the Han people loathed to cut their hair as a respect for the gift of life from their parents, the Manchu hairdo required shaving the head except for the long braided queue or pigtail in the back. In the beginning of the Qing 清 (Manchu) dynasty, the long pigtail grew out of a circle of scalp two inches in diameter, then gradually became larger until it covered the rear half of a man's head.

(from web)
To enforce this change in hairdo, Manchu troops gave Han people the choice: cut off the hair or cut off the head. Millions of Han men preferred to die than submit and cut their hair. It took a long time before this hairdo became the universal Chinese look. But the Han people missed their hanfu. When Korean emissaries visited Qing dynasty wearing their Korean hanbok 韓服 clothing, the Han people in manfu and pigtails would weep upon seeing their hanfu-like clothing.
The Traditional Hanfu 漢服
Ever since the beginning of the Chinese civilization, hanfu has been the traditional style with minor changes. This is Han dynasty clothing (2,000 years ago):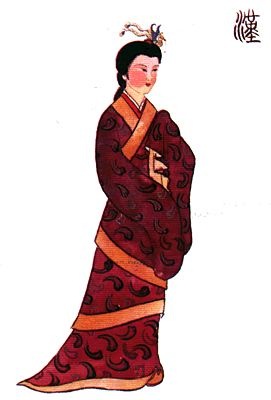 (from web)
Tang China was cosmopolitan, accepted foreign influence, and practiced greater gender equality. Tang ladies wore low cut dresses that reflected the open and self confident Tang culture. This is Tang dynasty clothing (1,300 years ago).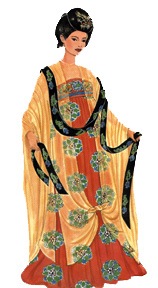 (from web)
This is Song dynasty clothing (1,000 years ago):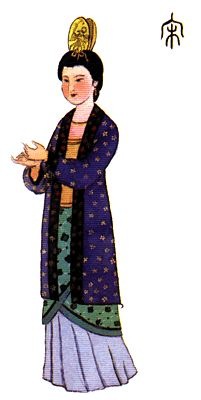 (from web)
This is Yuan (Mongol) dynasty clothing (700 years ago). Note that even the brutal Mongols did not force the Han majority to wear their Mongol clothing.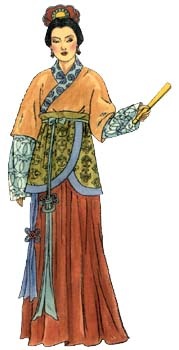 (from web)
This is Ming dynasty clothing (500 years ago).


(from web)
Hanfu for women can be feminine, beautiful and graceful.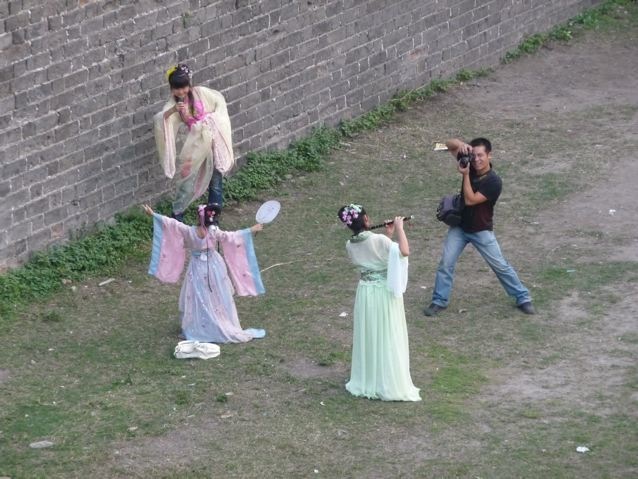 Hanfu for men can be masculine, elegant and suave.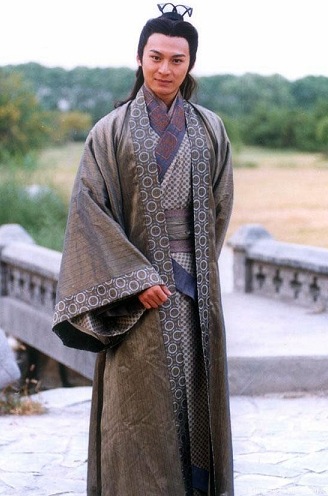 (from web)
As Chinese civilization was the cultural fountainhead for its neighbors, it is not surprising that traditional clothing of Japan (kimono) and Korea (hanbok) were influenced by hanfu. The Vietnamese ao dai, however, was influenced by the Manchu qipao.
The Hanfu Revival Movement
A man named Wang Letian started the hanfu revival movement in 2003 when he wore his hanfu on the streets in China.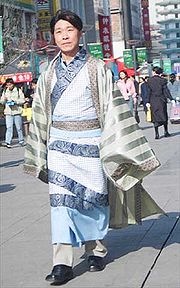 (from web)
It soon attracted an enthusiastic following who sewed and wore hanfu in their own cities, held ceremonies in hanfu, and discussed ceaselessly on web sites.
One of the Chinese web sites is as follows: http://www.hanchinese.net/forum/index.php
Two years ago, a group of young people from China visited Hong Kong to propagate hanfu. They wore their hanfu and visited malls, walked the streets, and ate in restaurants. Hong Kongers wondered if they were actors who just walked off a movie set. Apparently it will take some time to popularize hanfu among the Chinese people.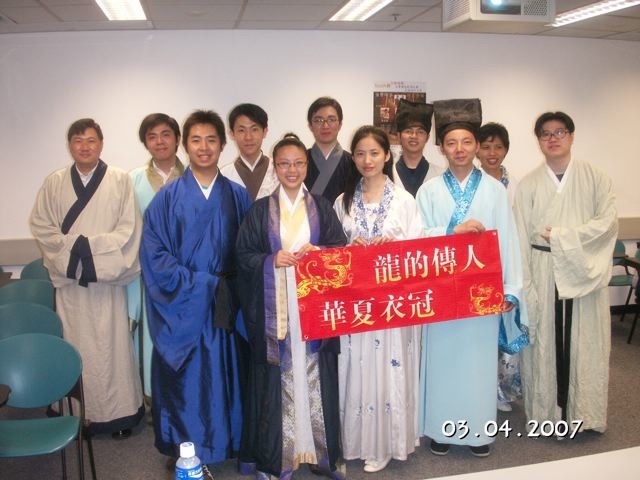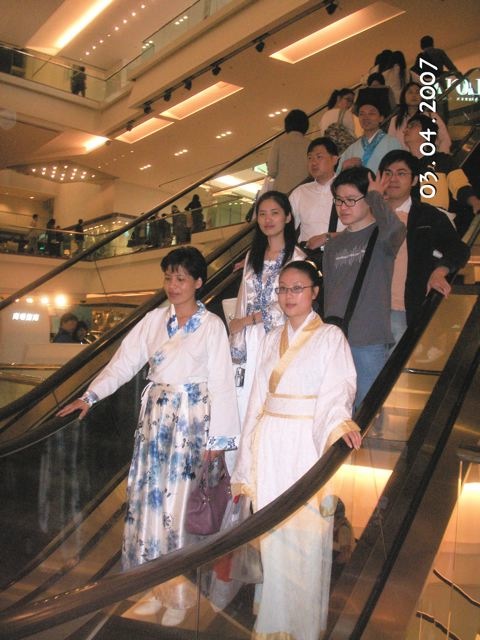 I joined them and borrowed a short tunic for this picture. It felt comfortable and I wouldn't mind wearing it occasionally as a casual wear. Sally and I are considering purchasing or sewing a set of hanfu for ourselves and to wear them on special occasions.
The discussion web site above has instructions on sewing hanfu, and the following is a commercial web site that sells hanfu: http://www.chinesehanfu.com/